Cleveland Browns supporters are some of the NFL's most hardened and resilient fans … fifty years of disappointment will do that to a fan base. They're a city that's starving for a championship, but a patient city that's willing to wait for that one perfect moment. They're a city that once lost its team, but in that loss, learned how precious and rare that connection could be.
Danielle and Steve were forged in this culture of resiliency, and their love began in this world of Cleveland sports. Both are huge fans of Cleveland's sports franchises and their history is tightly tied to Cleveland Browns Stadium and the Cleveland Browns NFL franchise. Danielle and Steve's first date was at Cleveland Browns Stadium. They are avid tailgaters that take to the lots surrounding the stadium on Sunday mornings in the fall. Steve proposed to Danielle down on the field after a Cleveland Browns game at Cleveland Browns Stadium. So when they decided to get married, it was a natural choice to include the rich tradition of the Cleveland Browns organization as part of their special day.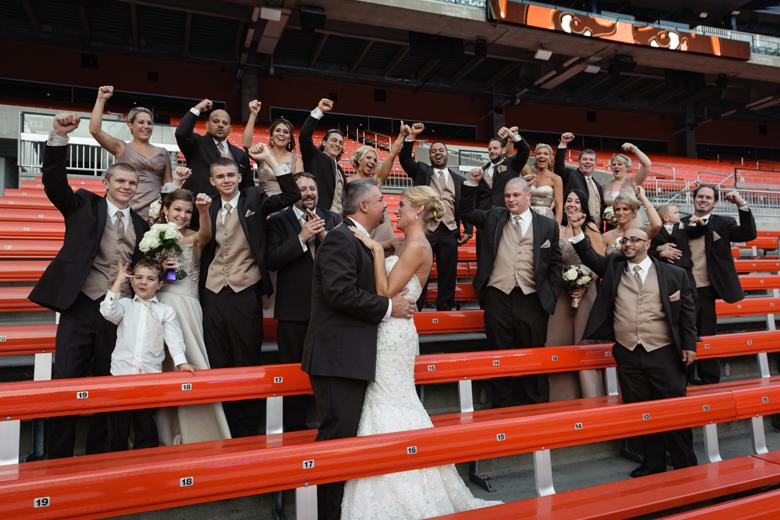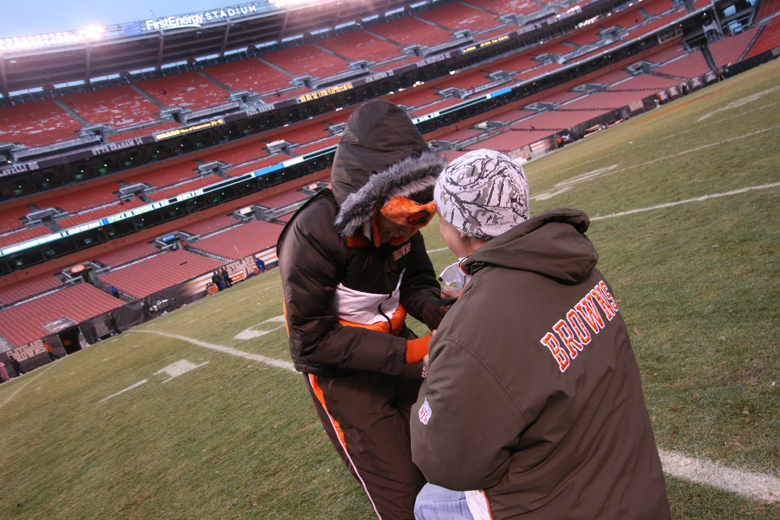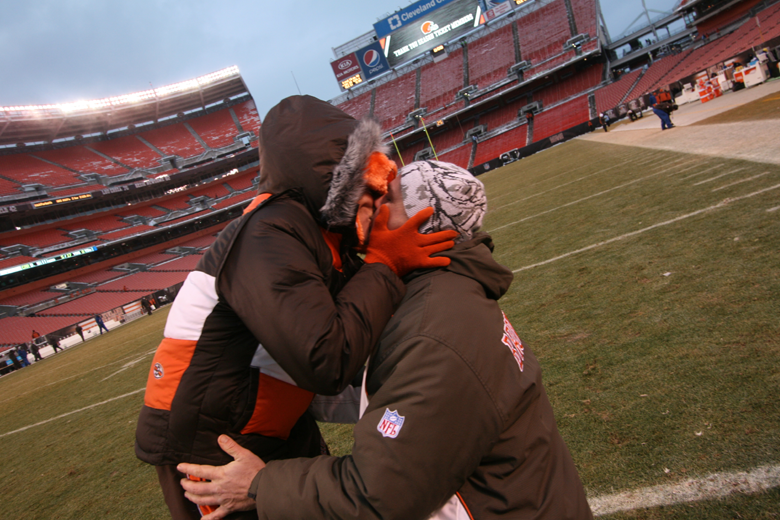 Danielle and Steve were married in First Congregational Church in Akron, Ohio. The First Congregational Church is a beautiful, spacious cathedral affording plenty of room for the fourteen-person bridal party that accompanied Danielle and Steve as they celebrated their union. The bridesmaids wore beige gowns with white floral bouquets. The groomsmen wore tuxedos with matching beige vests and some great orange and brown striped socks as a nod to the couple's favorite NFL franchise. Their wedding was photographed by David Corey Photography.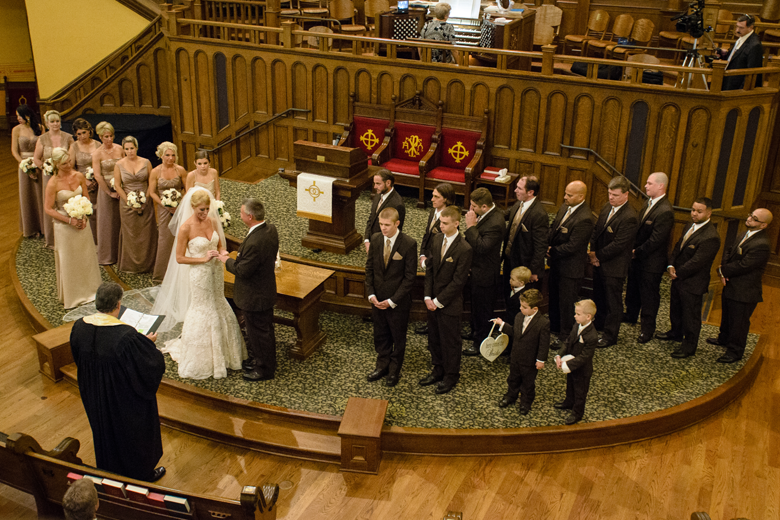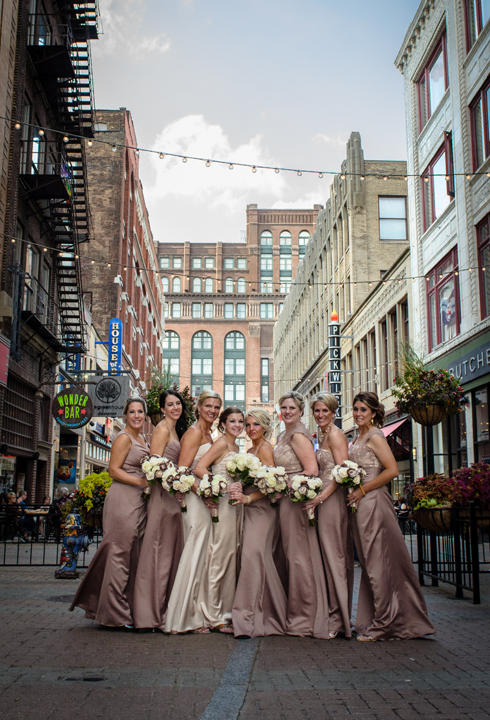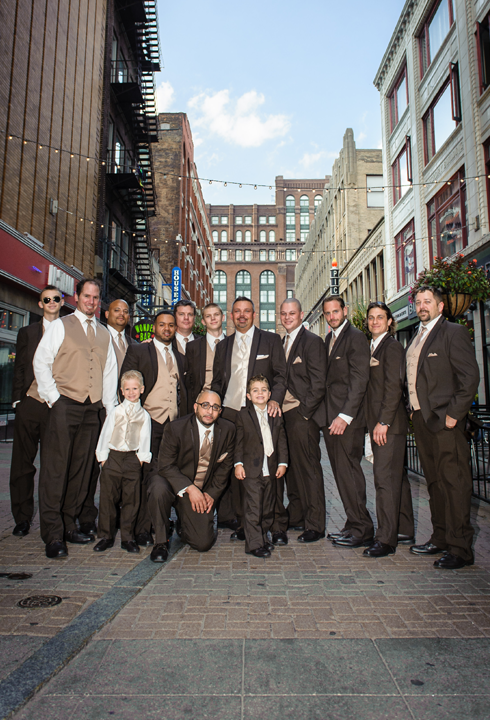 Including the Cleveland Browns in their wedding day was a natural decision for the couple.  Danielle wore brown, six-inch heels embossed with Browns logos, while Steve and the groomsmen went with the orange and brown striped socks, accessorized by a pair of appropriately marked cuff links.  Wedding programs that were designed to look like football game day programs, along with perforated ticket, wedding invitations were provided to their guests.  The super fan couple also arranged to have Cleveland Browns Stadium opened up for a private, wedding day event for themselves and their closest friends.  The day began with a photo shoot down on the field as the guests gathered in the Suite Level.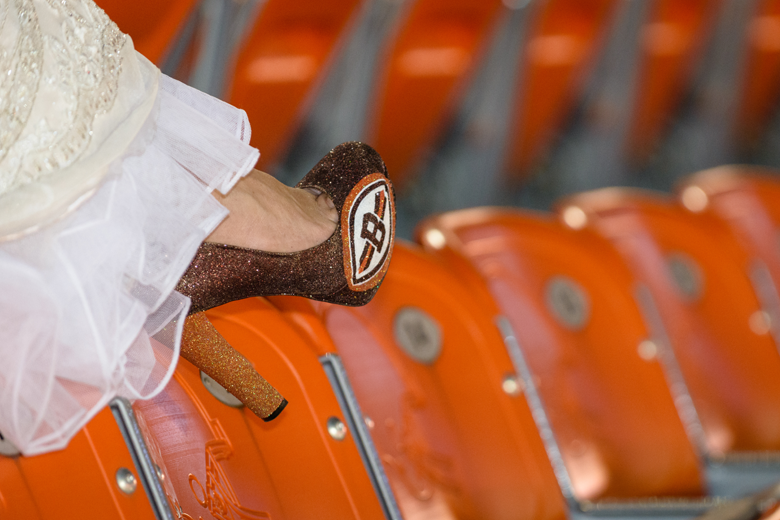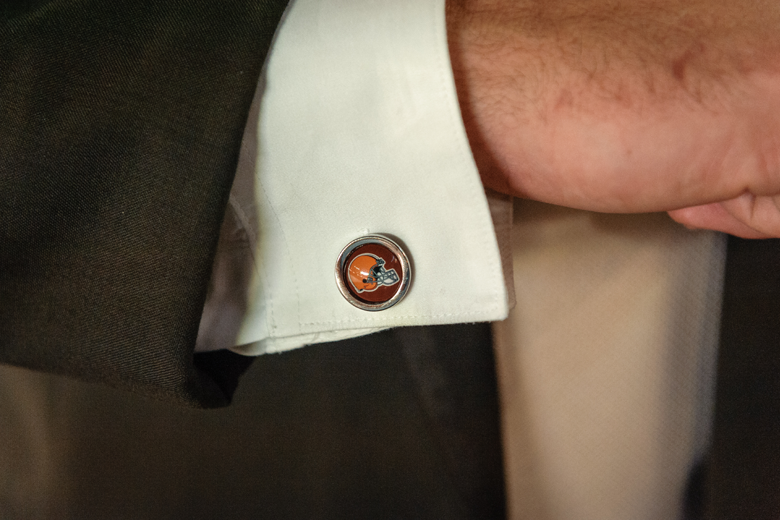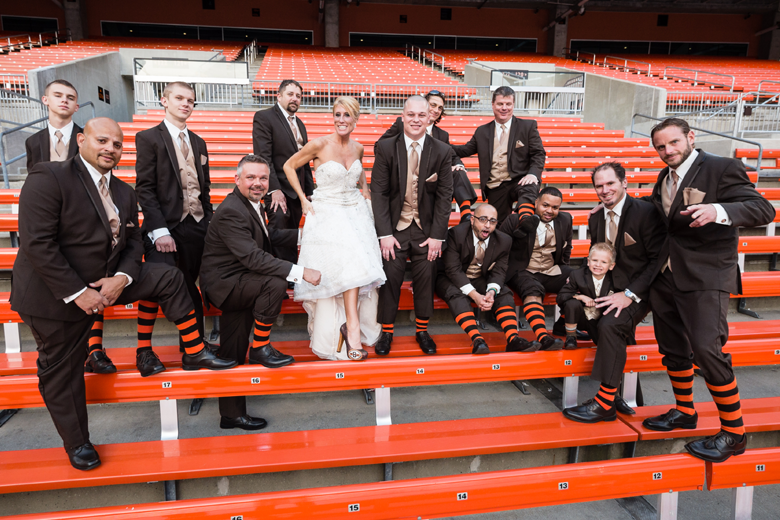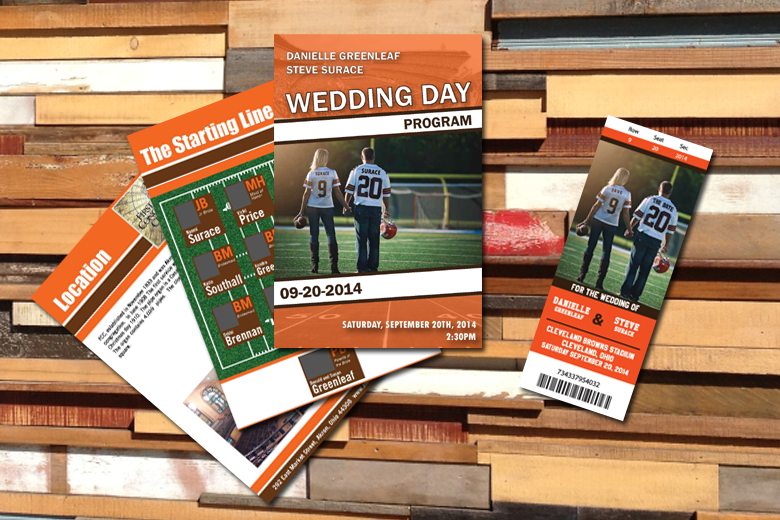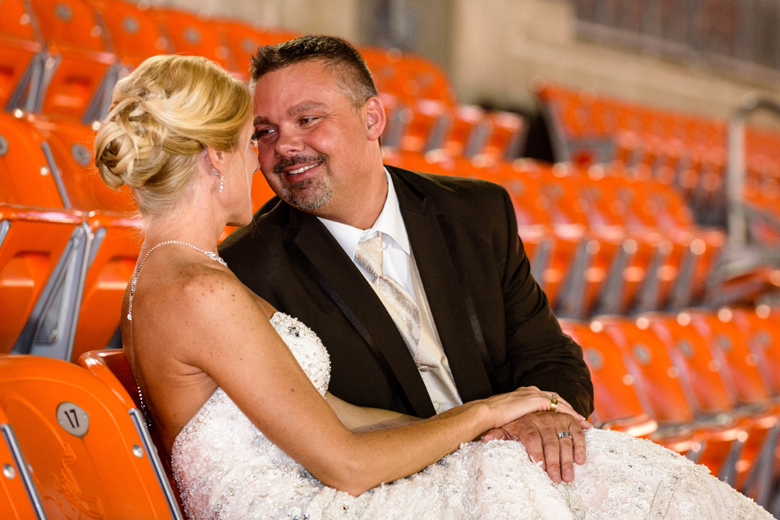 Arriving at the wedding reception, which was held in the Suite Level at Cleveland Browns Stadium over looking the city of Cleveland, Danielle and Steve were greeted by guests waving custom designed rally towels.  The "Surace Towels" were created by Sports Themed Weddings and provided to each guests as a memento of their special day.  The tables were adorned by centerpieces developed and assembled by the bride and her family, featuring cake pops provided by Cake Kisses.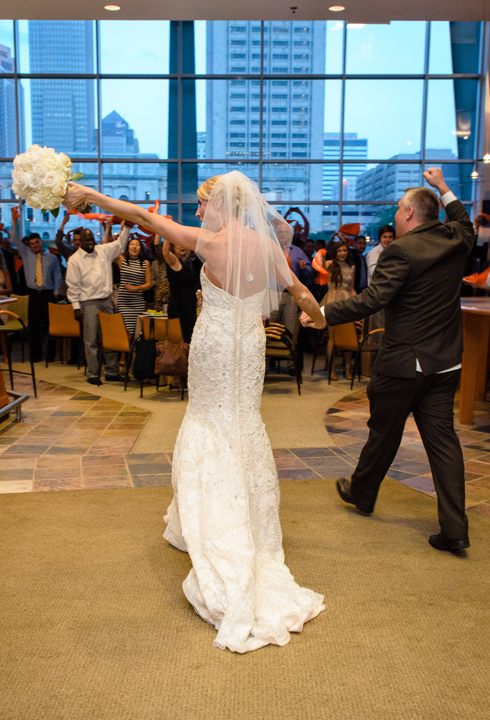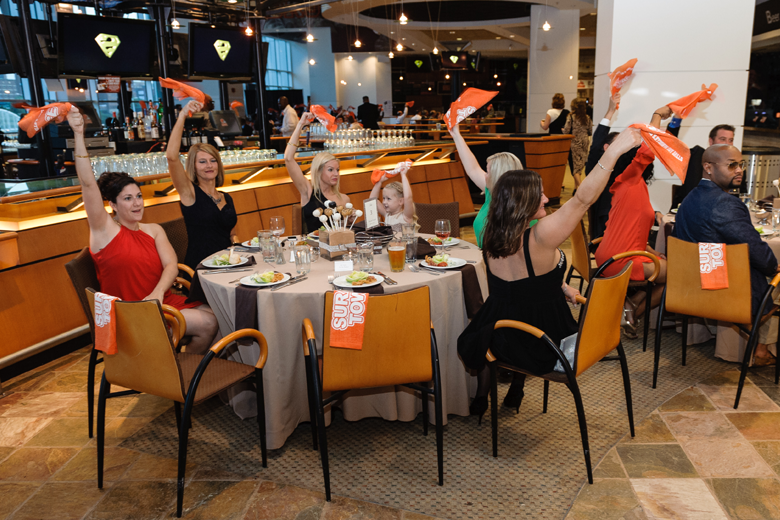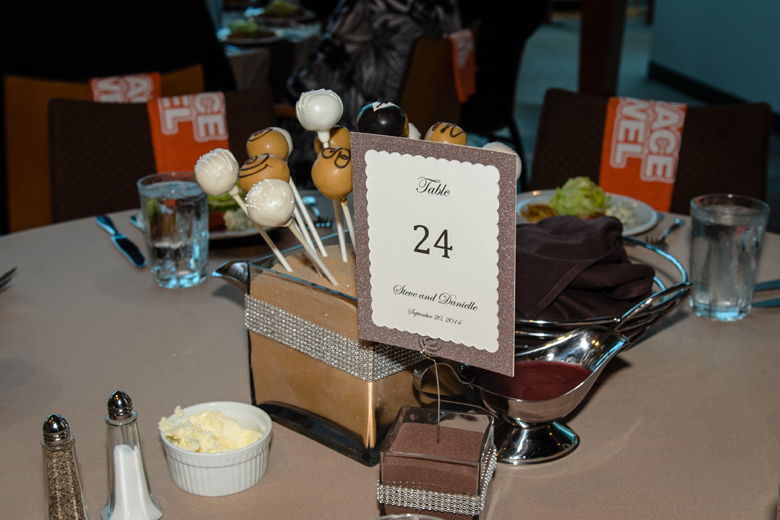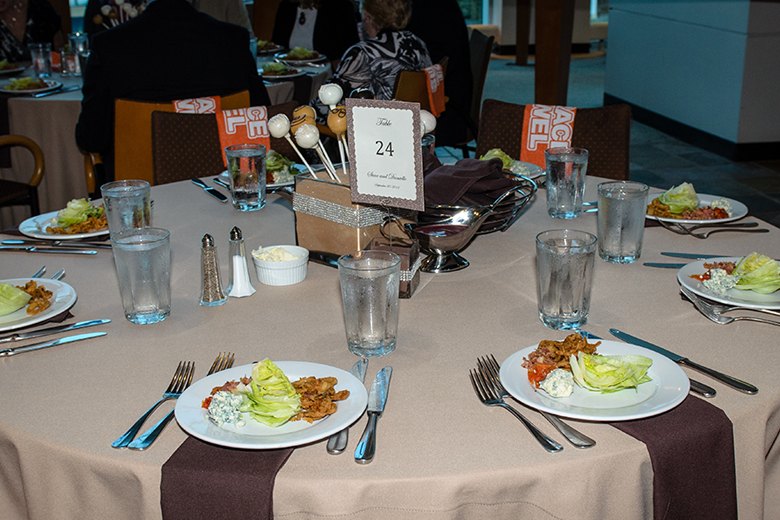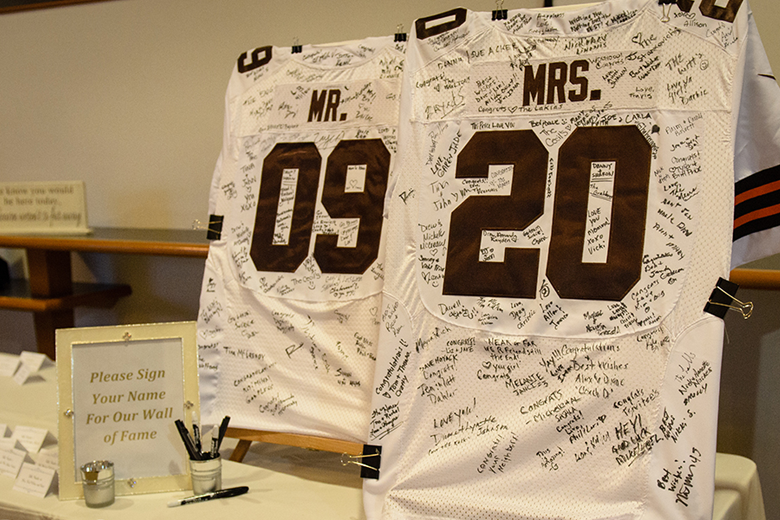 By the time the couple hit the dance floor, the party was in full swing.  The evening's entertainment was provided by American Bride Entertainment, northeast Ohio's premiere DJ Service.  Guests were waving Surace Towels and the bridal party made sure that everyone in attendance had an amazing evening.  The party continued late into the night, as this new couple clearly knows how to throw an event.  Congratulations to Danielle and Steve Surace!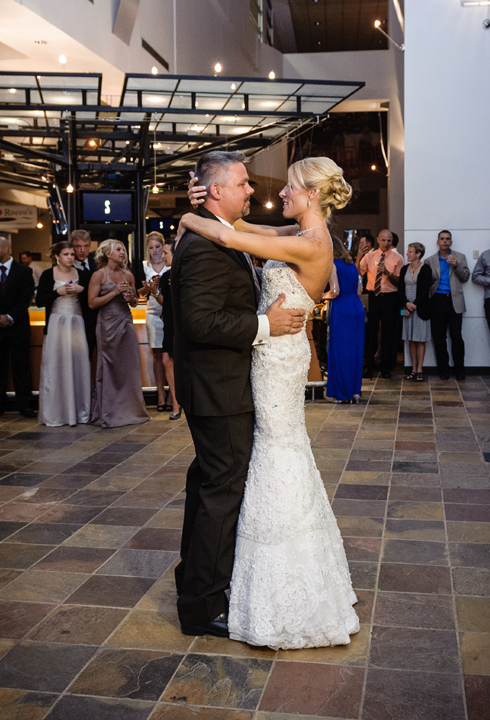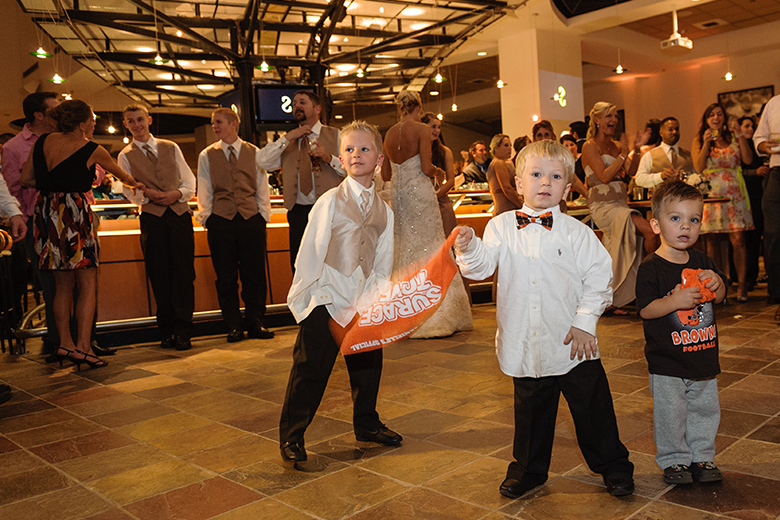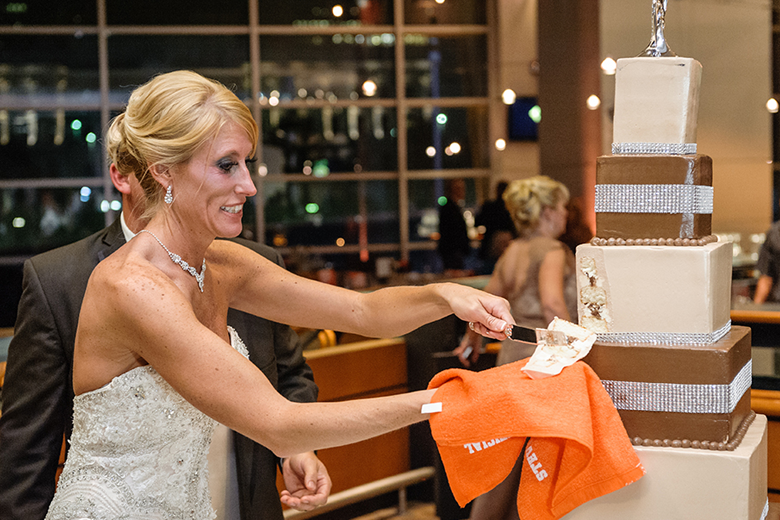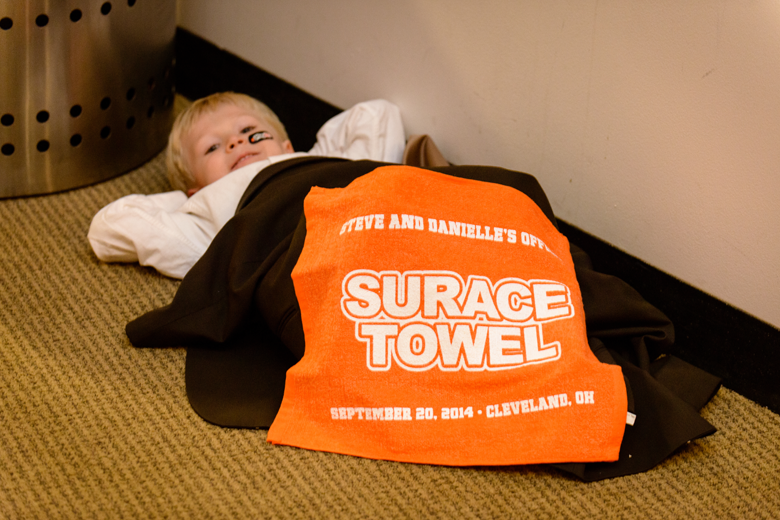 Additional Vendors: