Katlyn and Patrick were both born in San Jose, California, and as coincidence would have it, both families moved to Colorado when they were young. While in Colorado, Patrick's father ended up working with Katlyn's mother and the couple met while they were still in high school, back in 2005. After high school, Patrick joined the US Army and Katlyn went to culinary school in California. They began dating in 2011, and the rest, as they say, is history. The couple now shares a home together in Washington State, as well as a mutual love of the San Jose Sharks.
"We just wanted to have a fun party and incorporate our favorite hockey team in a state that doesn't have a hockey team, we just wanted it to feel like a fun party."
Their San Jose Sharks themed wedding was beautifully photographed by Lavender Bouquet Photography with flower provided by the Olympic Flower Market in Lacey, Washington.
To really pull together their San Jose Sharks hockey theme, the couple relied on their own creativity and that of their closest relatives.
"Our wedding was definitely very DIY. The San Jose Sharks happened to be celebrating their 25 anniversary that year and we got married on the 25th of September, so we used the 25 logo. Our table cards were jerseys that I created by hand. Our ring bearer pillow was sewn by my mother and our table runner for the guest favors was also sewn by her as well. We had custom hockey pucks with our names on them, I made our wedding programs, and my in-laws took our engagement photos and put them on wine bottle labels. We also had remembrance tree for the many, many members of both of our families who had passed away."
Katlyn and Patrick chose to rent the Grand Holiday Ballroom in Olympia, Washington for their wedding reception.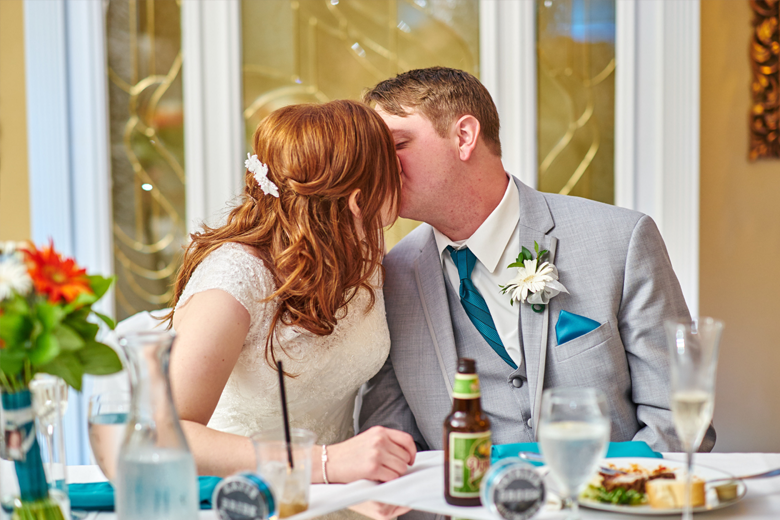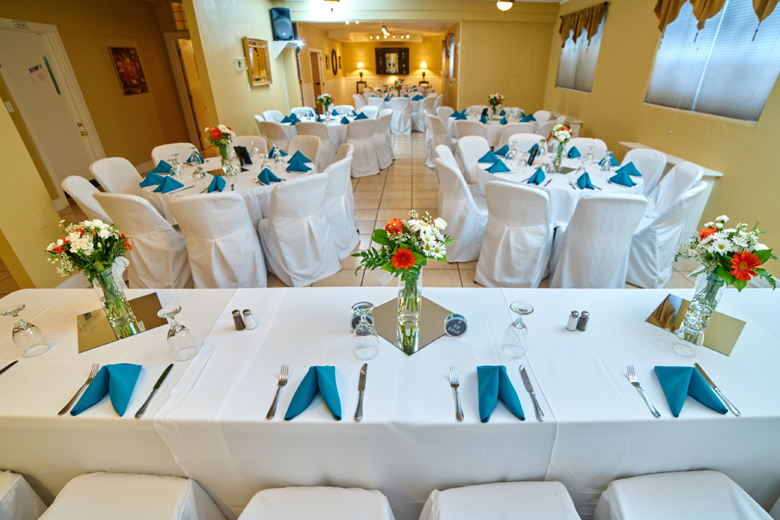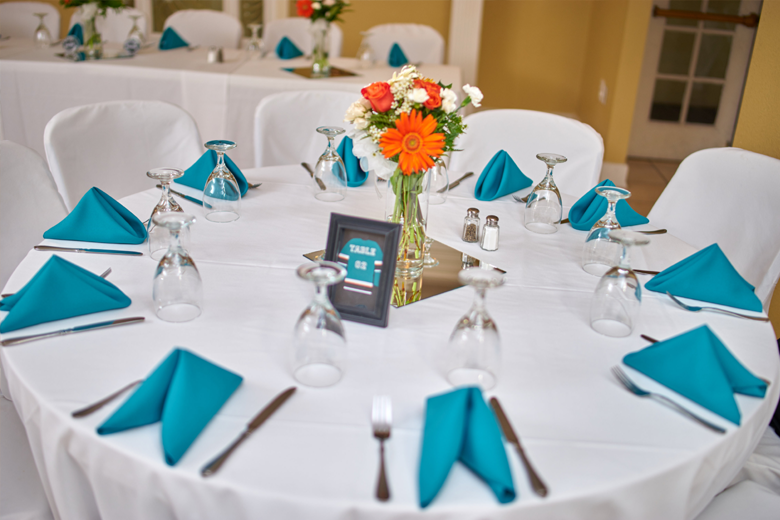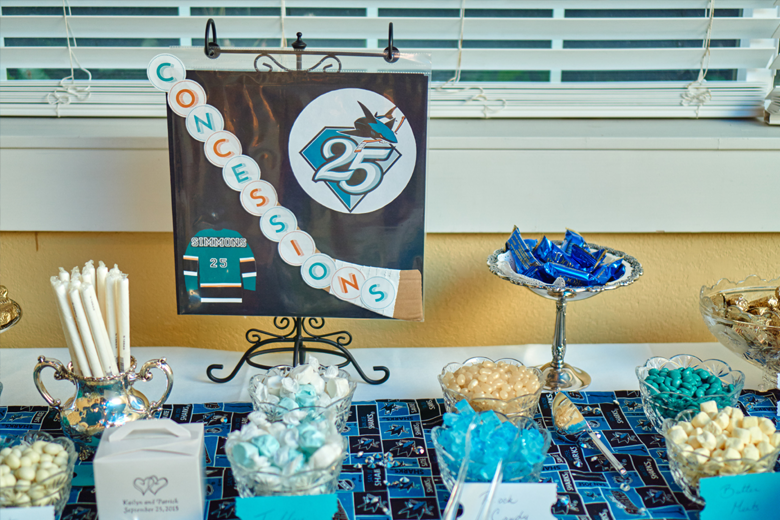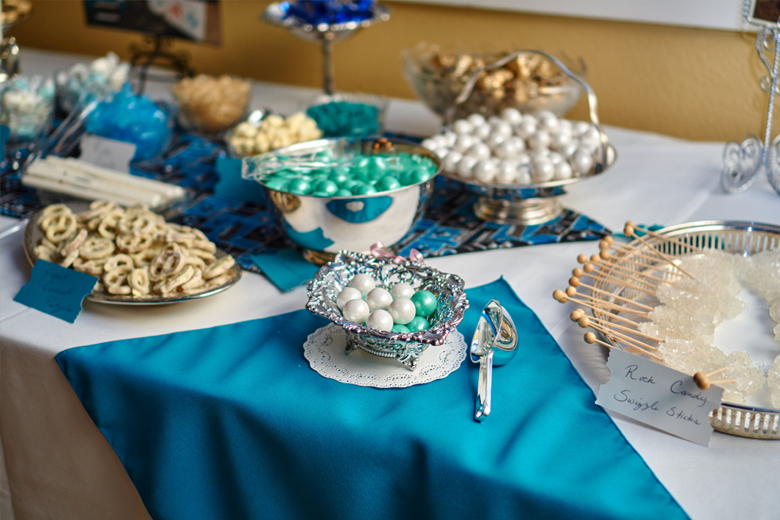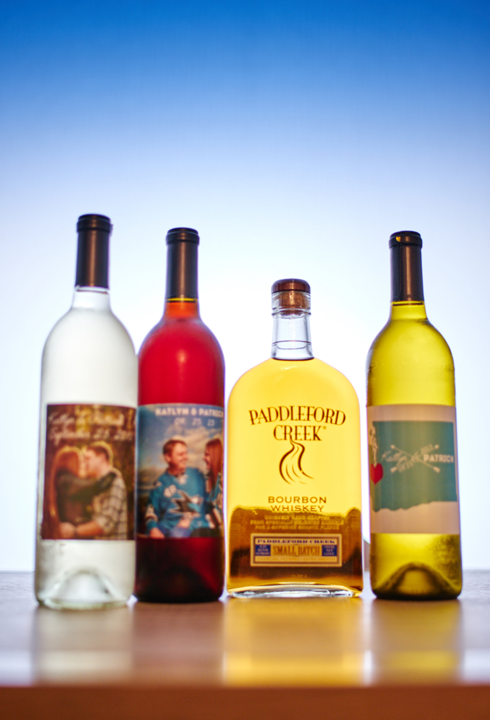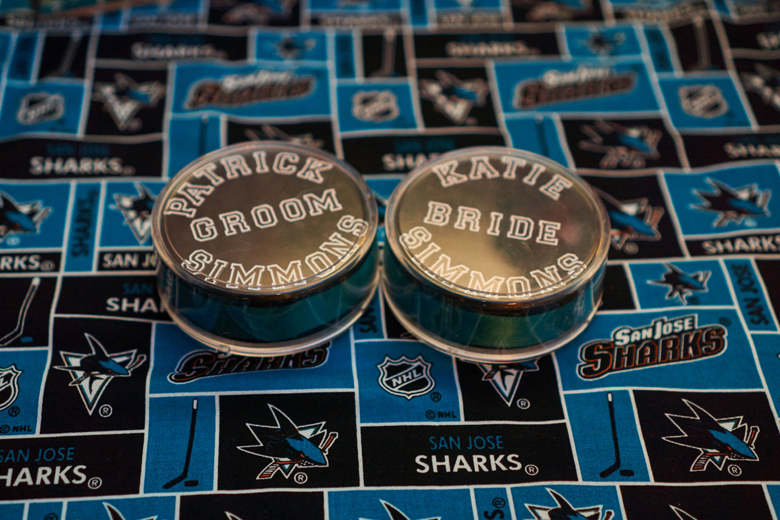 In remembering her wedding day, Katlyn recalled several favorite moments. The first time their eyes met on their wedding day in front of the Capital Building in Olympia, Washington and cutting their wedding cake were among her best memories. The couple cut their San Jose Sharks wedding cake to the theme song from the movie Jaws, but Katlyn insists that the best part of the day was getting married and spending time with their guests.
"Our wedding accessories were the invitations [created by Sports Themed Weddings] that looked like game tickets. Our programs where a hockey team starting lineup of the bridal party with captions for each "team" under the bride and groom. Our guest book was a hockey jersey with our last name on it that everyone signed and the guest favors included our candy bar "concession" stand that my mother in law build for us. it was beautiful!!!"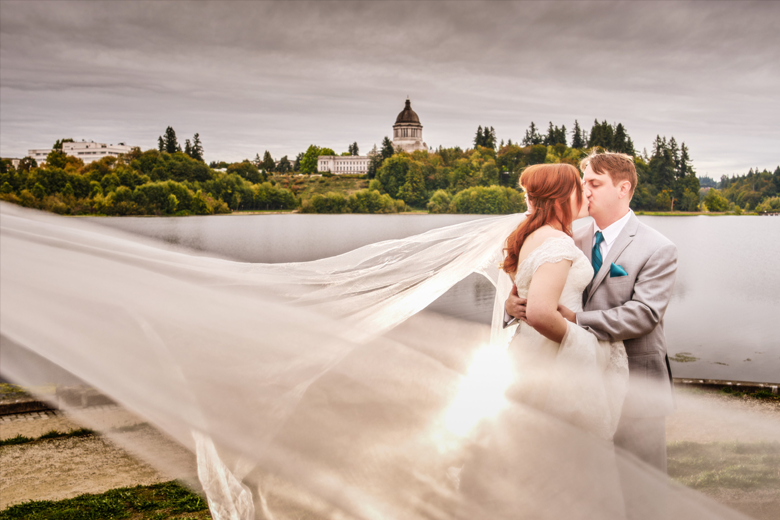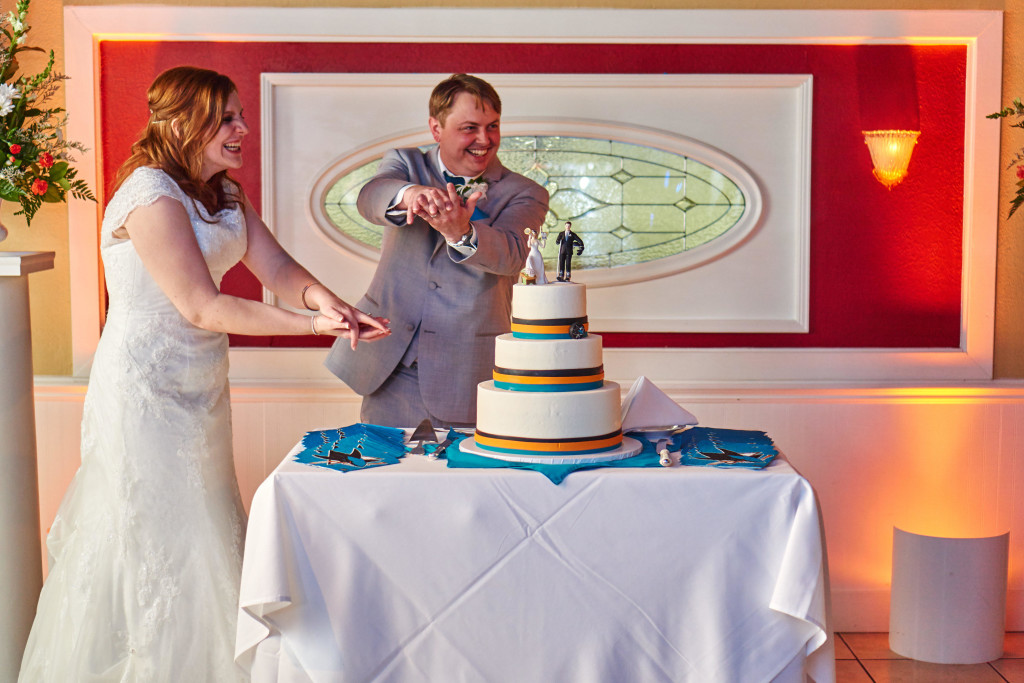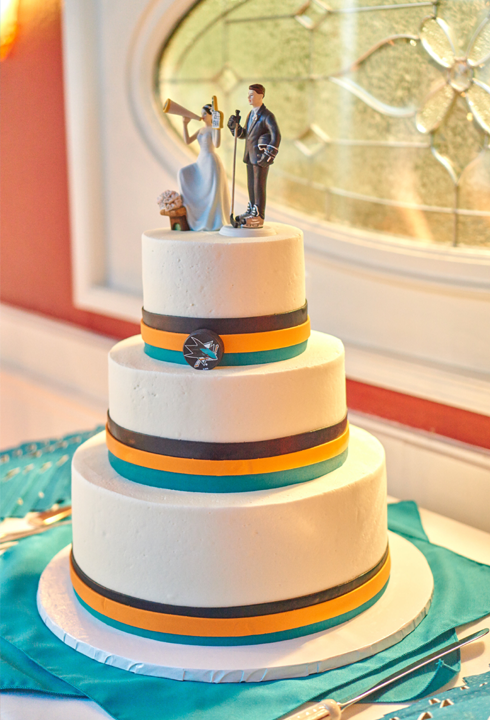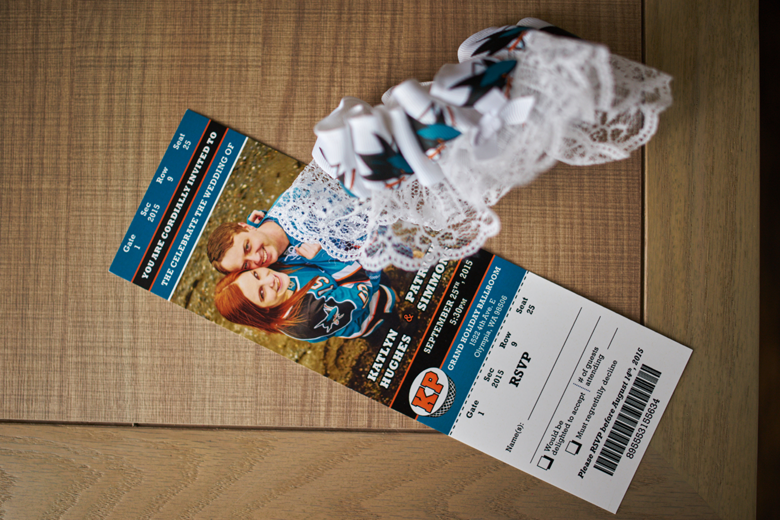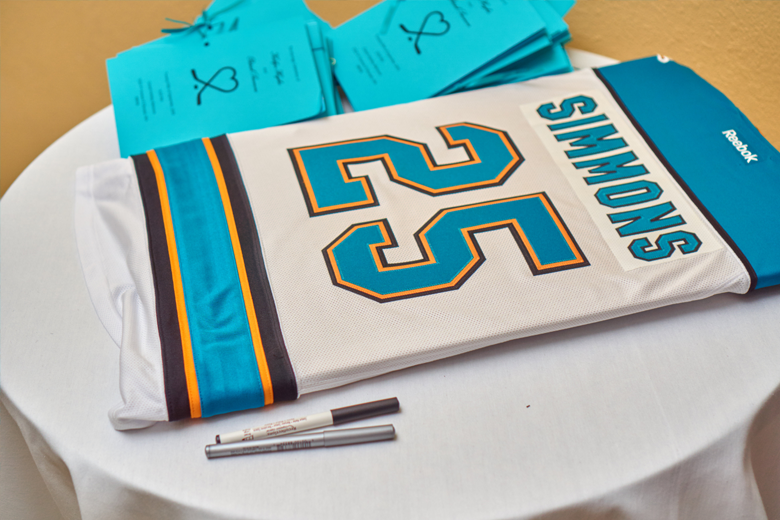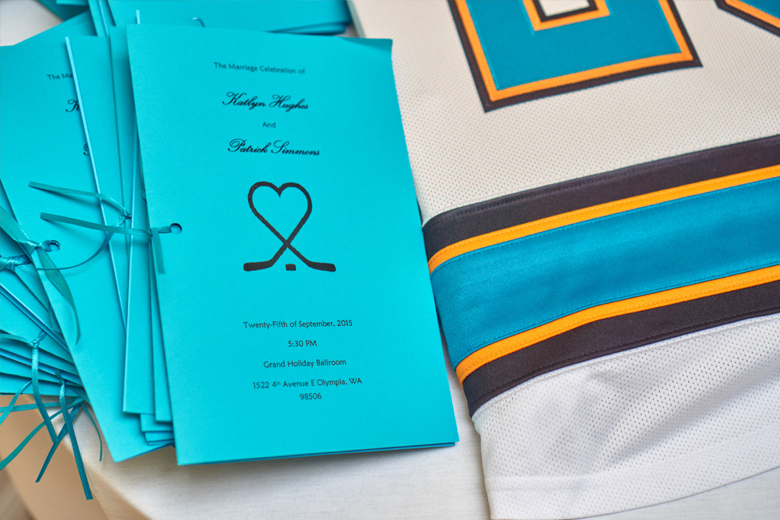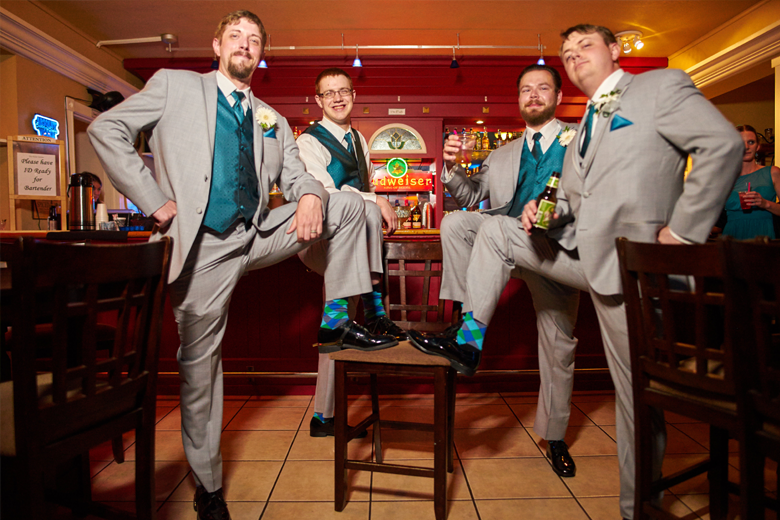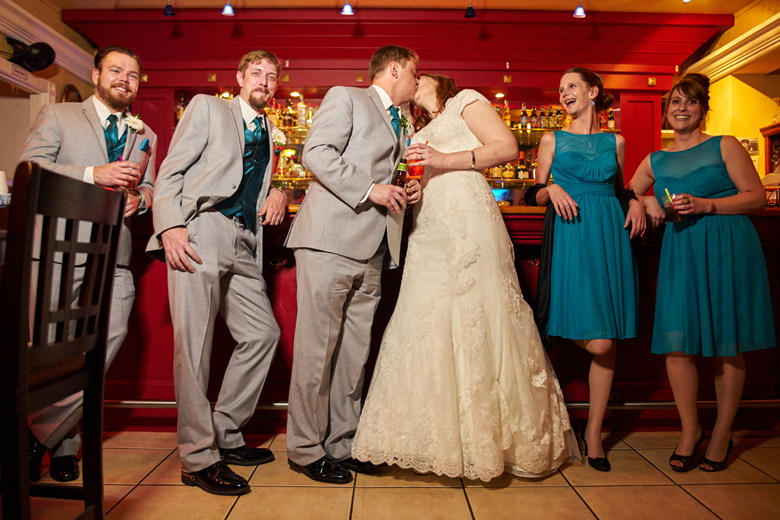 "My event tip would be to take your time and really find a venue you like. Go to open houses and visit different venues. Even if you don't use the venue or the vendors you talk to, you can still get prices and start comparing and really figuring out what you do and do not want."