Erin and Jude were married in a Vancouver Canucks themed wedding in the city of Buffalo, New York.
"Since we live in a hockey town and we both grew up loving hockey, we decided it would be perfect to have a hockey themed wedding featuring the groom's favorite team's colors. "
Their wedding was brilliantly photographed by Ireland Mae Photography and the floral arrangements were provided by South End Floral in Buffalo, New York.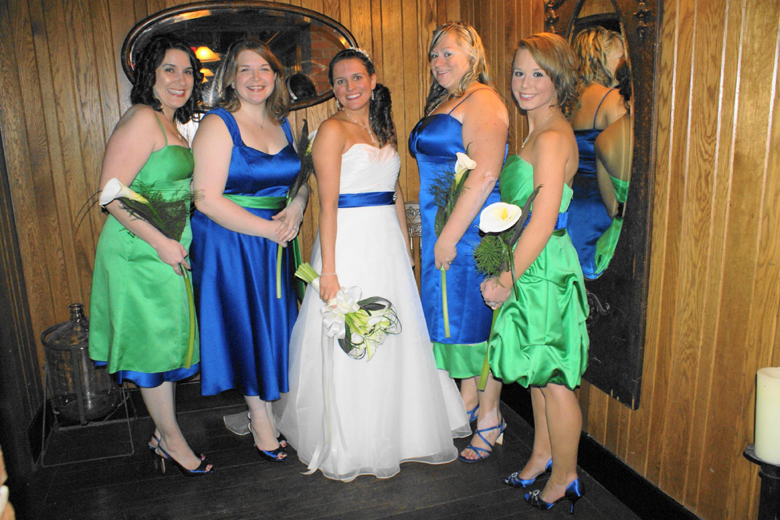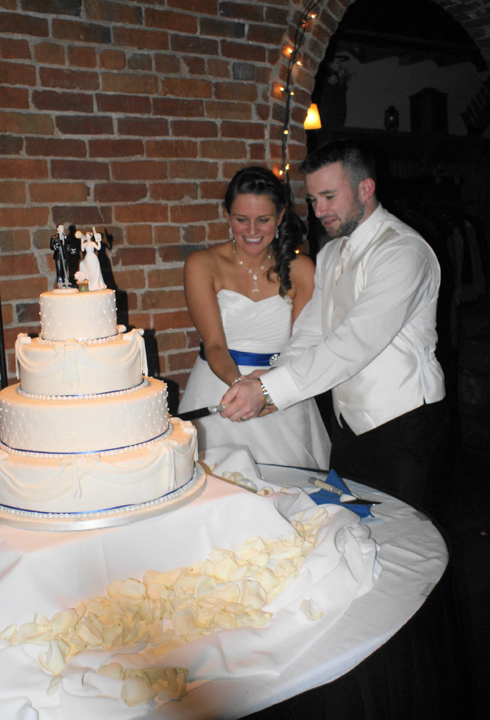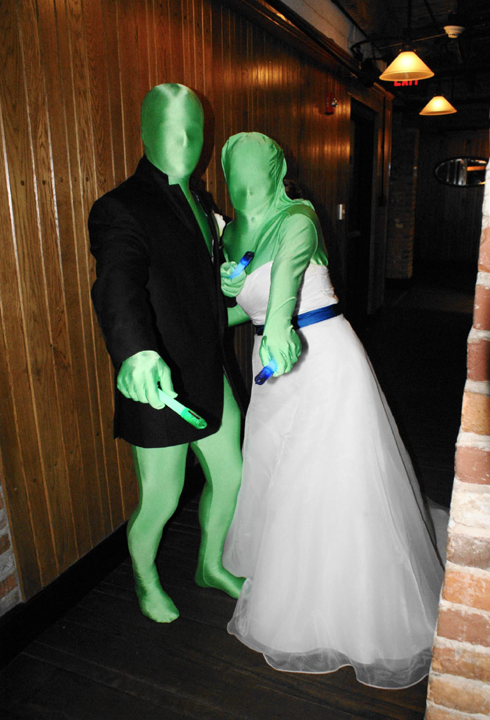 Melding the world of professional hockey with their wedding day celebration appeared to be a natural fit for these NHL hockey fans.
"The wedding day was everything we envisioned of, having a relaxed, fun atmosphere where we celebrated our love for each other, family, and friends, but at the same time time showing our love for hockey and his love for the Vancouver Canucks."
For their wedding reception venue, the couple selected a local hockey Bar and Grill that provided a great atmosphere to celebrate their union.
"Our venue was a popular first stop for many before and after a Buffalo Sabres hockey game.  It's called the Pearl Street Bar & Grill. This venue was perfect because it had a rustic but elegant look and feel to it, and we were able to have a Buffalo's Best Buffalo, featuring some of the city's most prized foods: pizza, buffalo wings, beef on weck, etc."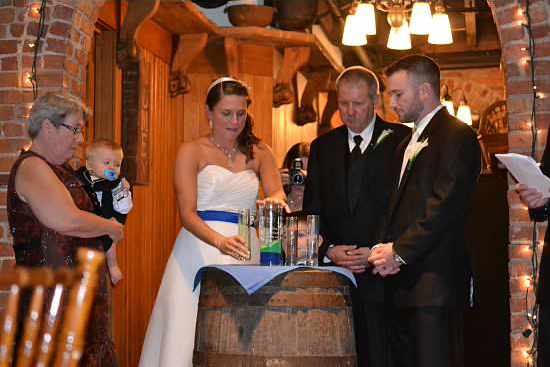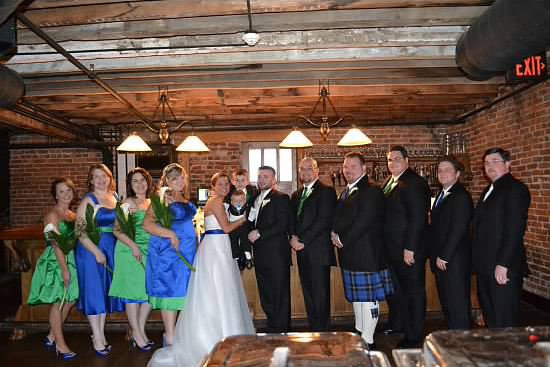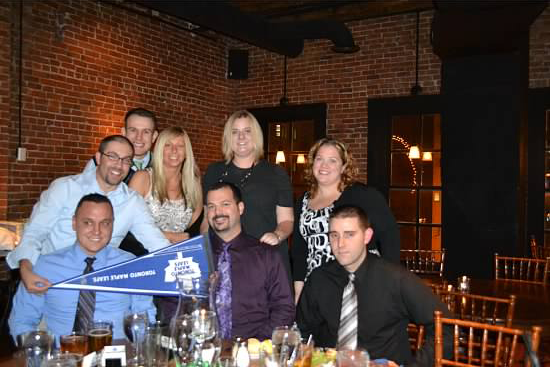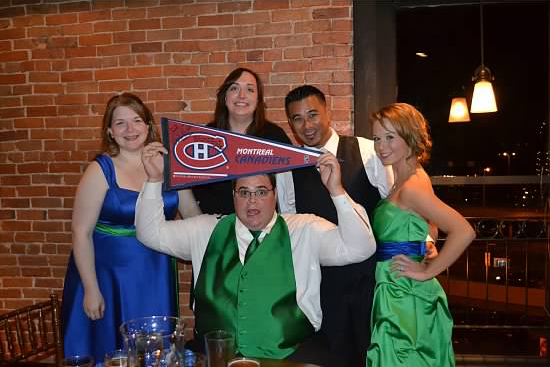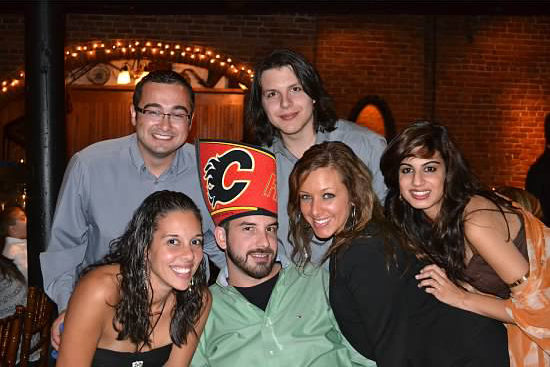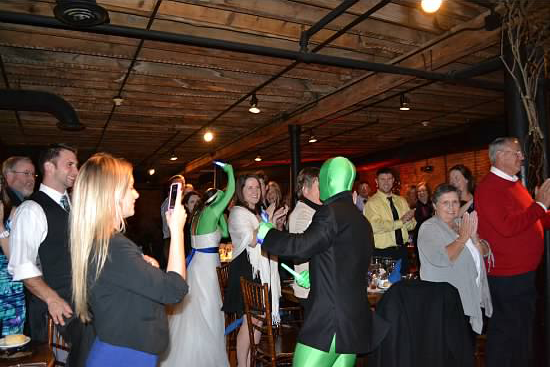 "I think many of our guests were surprised that we sent out Game Day Tickets from SportsThemedWeddings.com and asked them to bring along their favorite Hockey Jersey. The ceremony was a coming together signified by the Sand Ceremony, which was in Vancouver colors. The favors were hockey skate and hockey puck chocolates that the bride's mother made and each table had a hockey team flag to sign. The place cards were the RSVP from the invitation accompanied by a hockey card. The cake topper was a true indicator of Jude's love for hockey and how much I support him in watching it and now coaching our children in it. I think the best part of the night was when Jude and I were introduced as man and wife in the Green Man Crew outfits to the theme song for Hockey Night in Canada."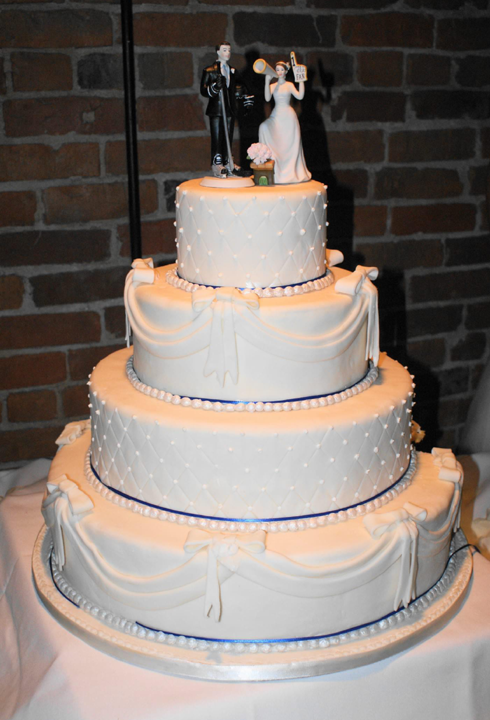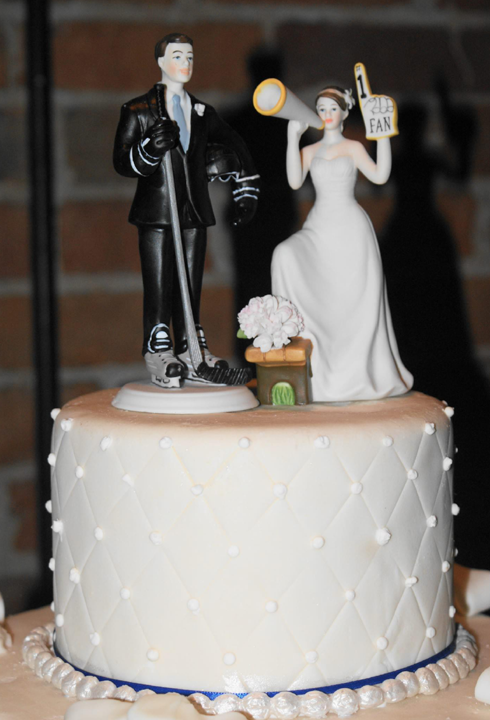 "This was a fun experience and made our wedding even more special because we could share a passion with our family and friends. When planning, I would say stay true to yourself and what you envision. This type of a wedding allows people to see into your true character and passion. It can be as formal or as casual as you would like it. Don't let anyone try to deter you away from what you want! And the most important part is to relax and take in every moment in of planning and that day!"