Our feature for this week is about a wedding couple that knew exactly what they wanted for their wedding day and vowed to stop at nothing in order to achieve it.  Their journey actually led them to become the very first couple to host their wedding at Met Life Stadium, home of the New York Jets.
Tony and Grace are a couple that highly values tradition and culture.  Being of Chinese-American descent, they are closely tied to their heritage, and therefore insisted on including these beliefs in the observance of their wedding day.  In addition, this New York City couple also wanted to provide their guests with a wedding day experience that would be truly unique.  Their wedding was photographed by Princess Wedding, Inc, from Flushing, New York.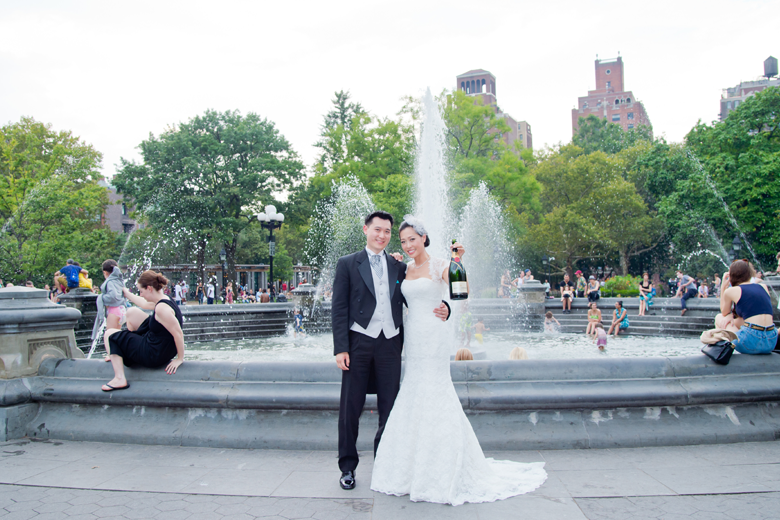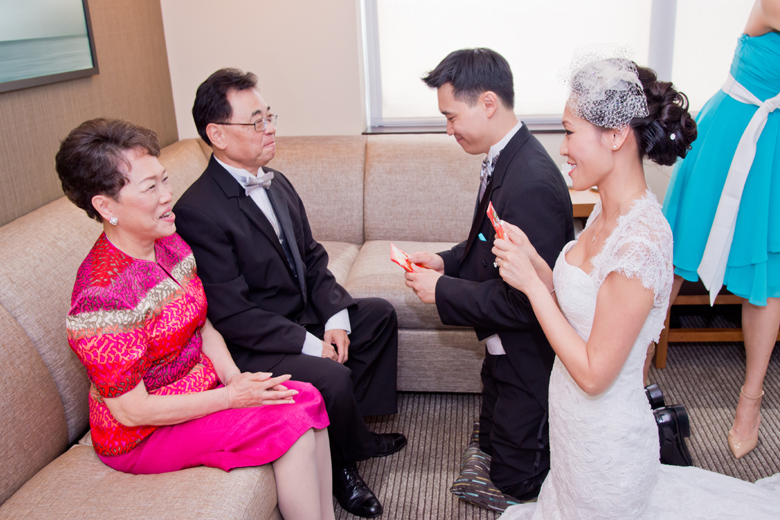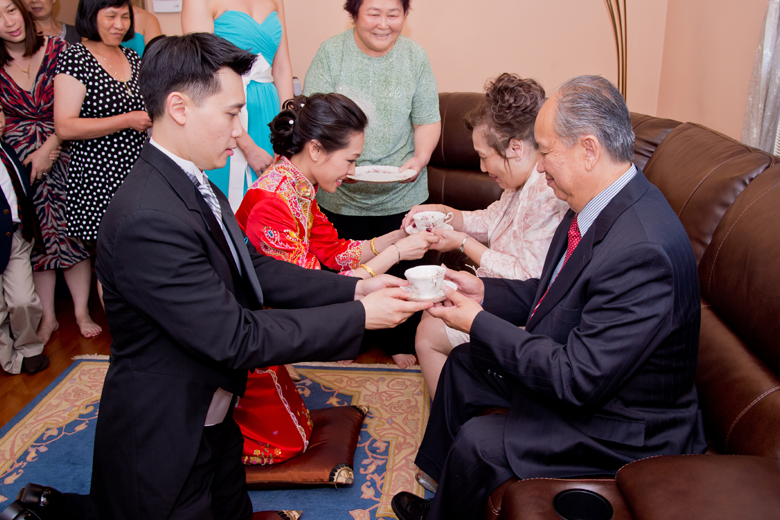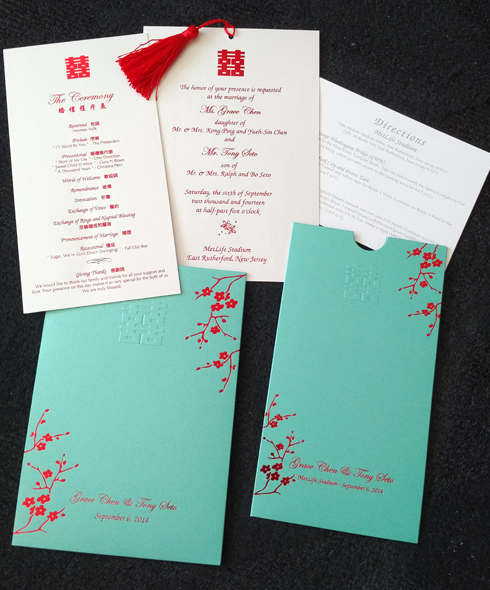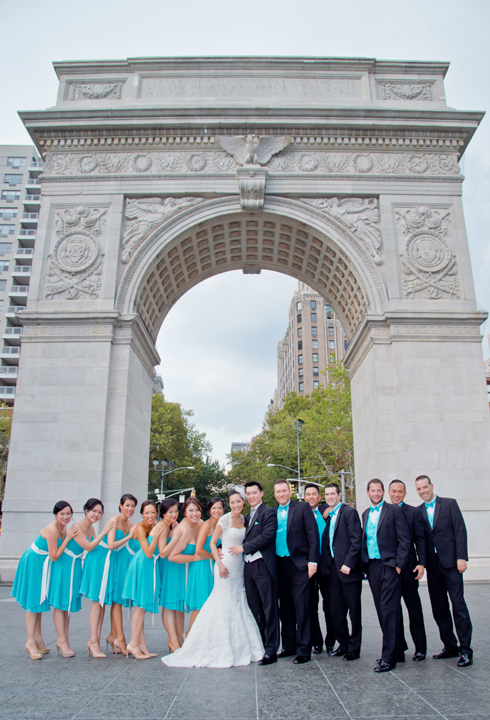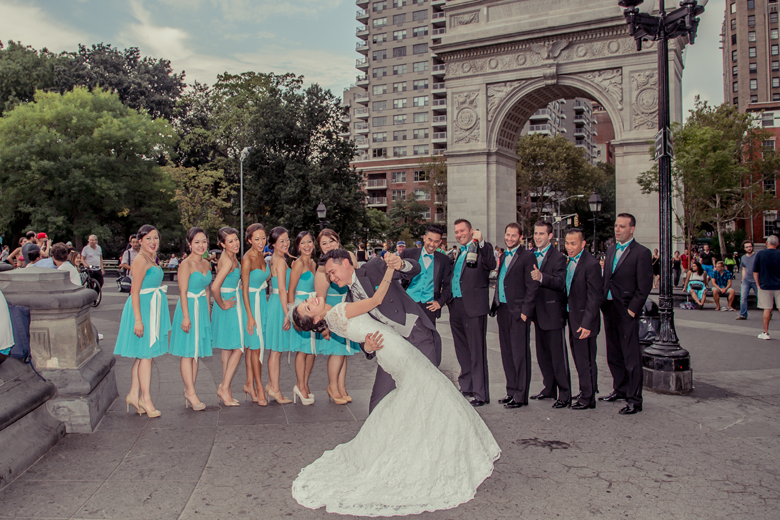 They began, as many do, by looking at the high end New York hotels when searching for their wedding day venue – The Pierre, The Palace Hotel, The Plaza, The Roosevelt, and The Ritz Carlton.  They even tried thinking outside of the box and looked at Lincoln Center and Grand Central Terminal, but when considering these venues, the couple decided that there was no personal connection to these locations, besides being on their home island of Manhattan. In the end, the lure of getting married at the home of the New York Jets was much too tempting to pass up.
The decision to have their wedding at Met Life Stadium actually began during a conversation over drinks between Tony and one of his closest friends, Jeff (a groomsman). Citi Field, the home of the New York Mets in Queens NY, was initially proposed because of Jeff's personal connection to the team, and because Tony and Grace are originally from Queens. However, after a tour of the stadium and the fact that their preferred wedding dates could not be guaranteed (in the event the Mets made the playoffs), they quickly switched gears to the brand new Met Life Stadium, as Tony truly is, to his core, a New York Jets fan.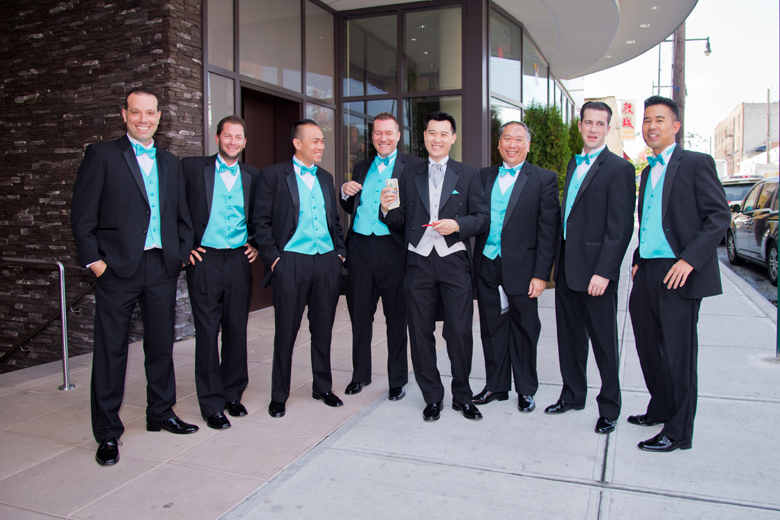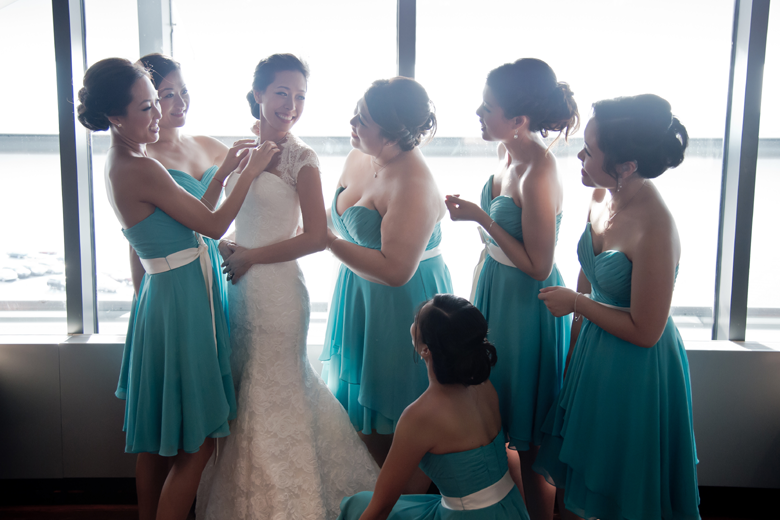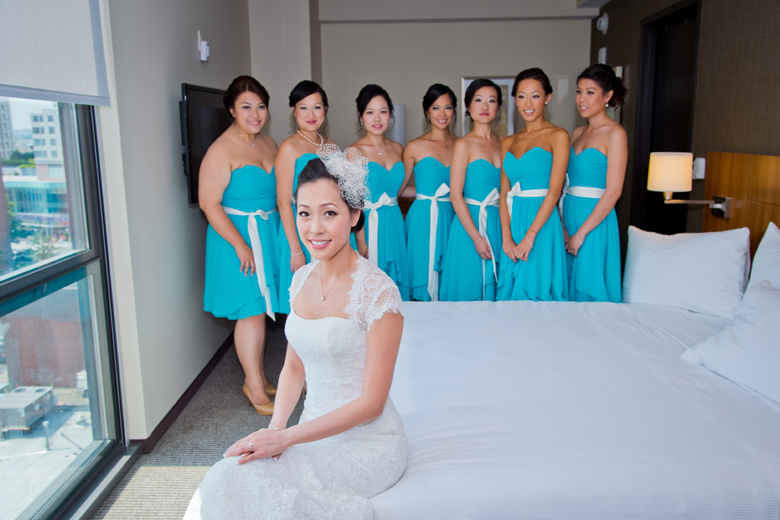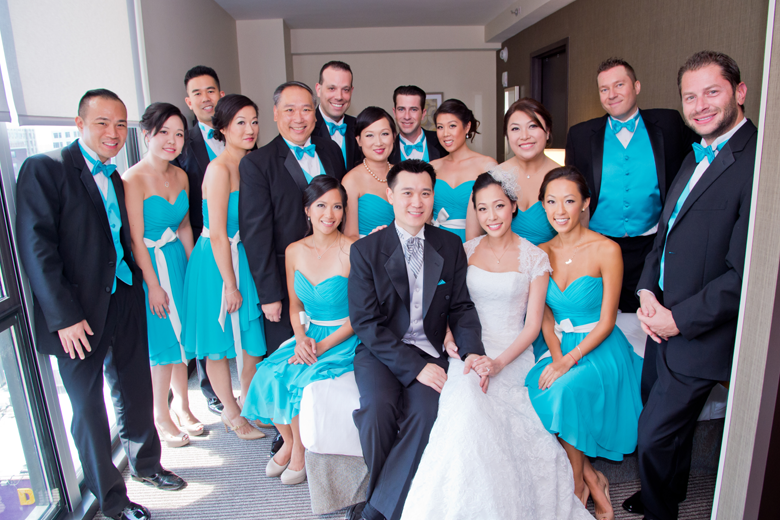 Now at the time, Met Life Stadium was not very open to the idea of hosting a wedding within their facility. Furthermore, since the New York Giants and New York Jets share Met Life Stadium, in order for it to be a New York Jets wedding (stadium decked out in green and white, rather than blue and red), it would have to take place in the fall on a Saturday before a New York Jets home game. To complicate thing even more, when considering Chinese cultural numerology and astrology, it could really only fall on certain specific dates. To top it all off, there was the hurdle of actually getting the New York Jets to agree to approve the wedding at their facility while the organization was busy preparing for the upcoming NFL Draft.
Tony and Grace were headstrong and driven … they are typical New Yorkers.  They eventually found a way, over the next several months, to get the necessary permissions to execute the wedding of their dreams, but cutting through the red tape took a long time.  By the time the date was selected and the venue was finally booked, they had three months to plan and execute this monster of a wedding, and many more hurdles lay in their path.
Met Life Stadium had never hosted a wedding at their facility, so our couple pushed the limits of what they might be allowed to do.  They fought hard to convince CBS Broadcasting to allow them to use the stadium scoreboards and digital pylons located outside the stadium to post their photos and custom graphics.  They had to come up with their own contingency plans in case of inclement weather.  They had to rent everything to host their reception from outside companies.  The chairs and tables were brought in from outside, along with, silverware, glassware, dishes and settings.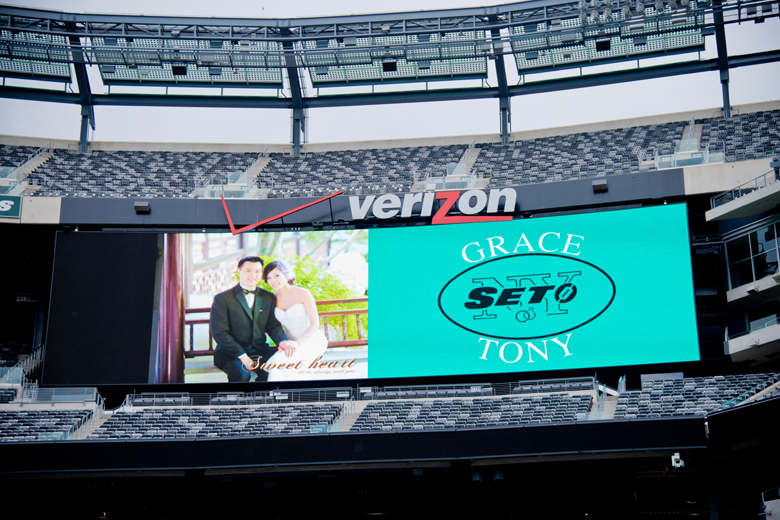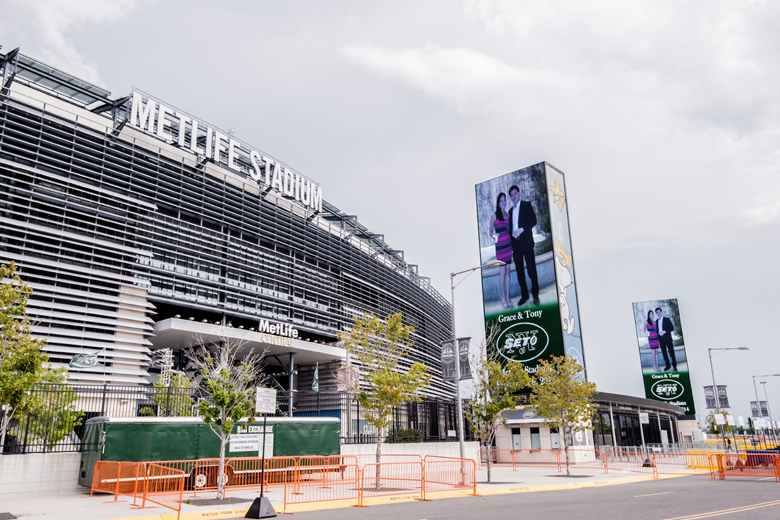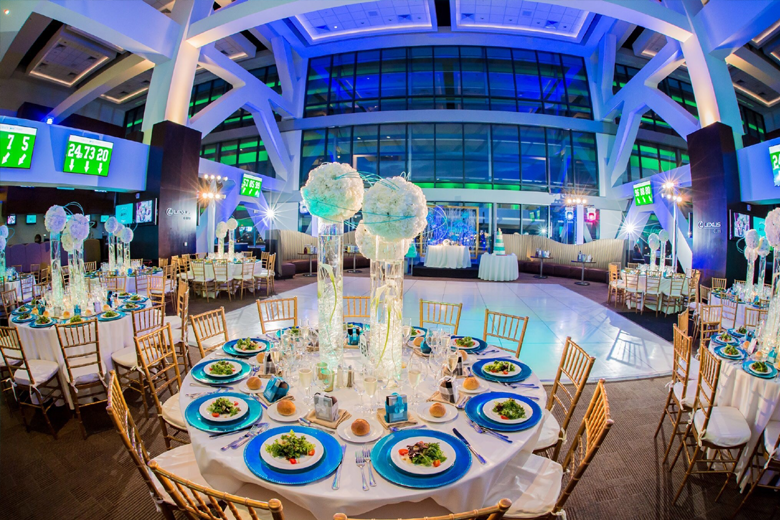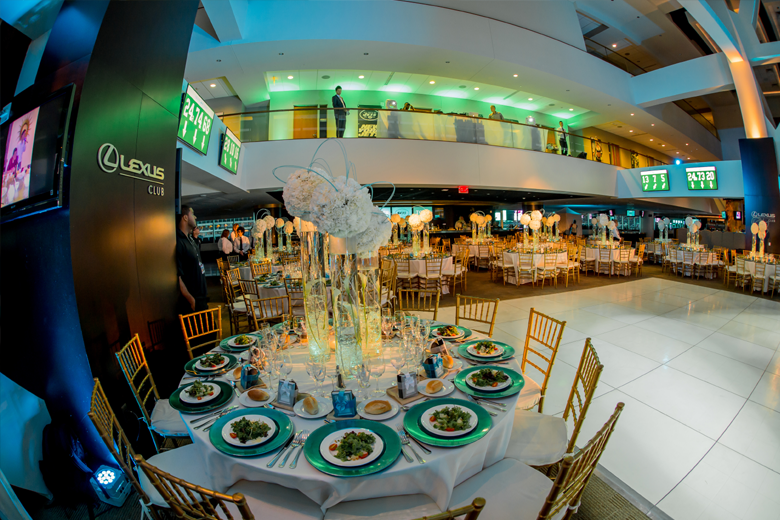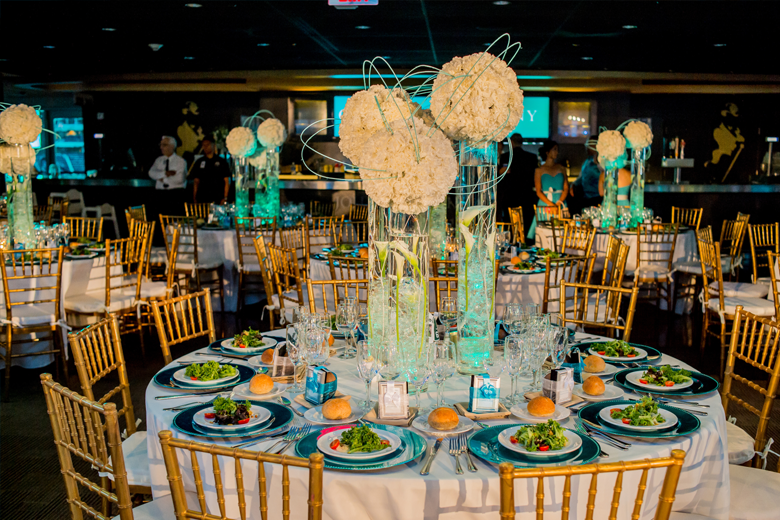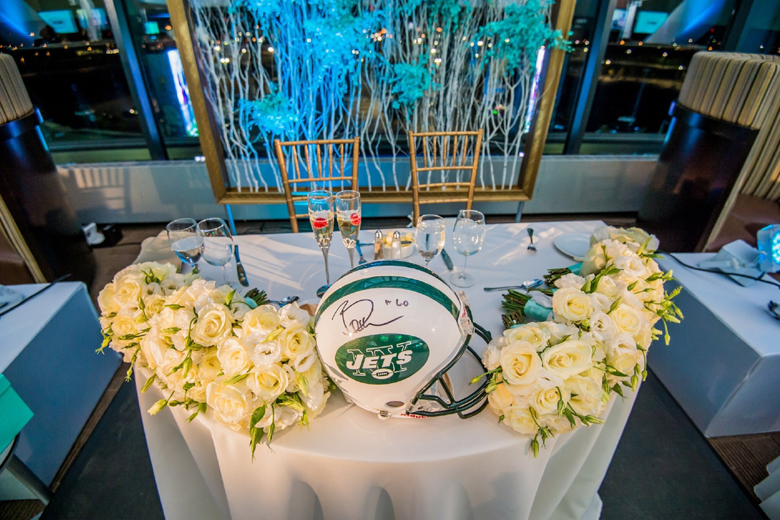 Although planning this event was stressful, the end result was an elegant and picturesque wedding day celebration that sets the bar for football themed events.  Everything shown in the wedding day photographs is a direct result of the herculean effort taken on by the bride and groom to arrange this event for their guests.
The couple insisted that this day be about tradition and culture with Met Life Stadium as a backdrop for their day, rather than the primary focus.  To accomplish this, a stage was setup at field level for their wedding ceremony and for the wedding reception, they took over the stadium suite level as if it was their own personal New York City night club. For their wedding colors, the choice was made to go with Tiffany blue and white to match Grace's ring, instead of New York Jets hunter green; and although there were subtle nods to the New York Jets throughout the wedding reception, it was decorated with traditional floral arrangements to convey a simple elegance.  By the end of the evening, their quest to provide a truly unique experience for their guests was a complete success.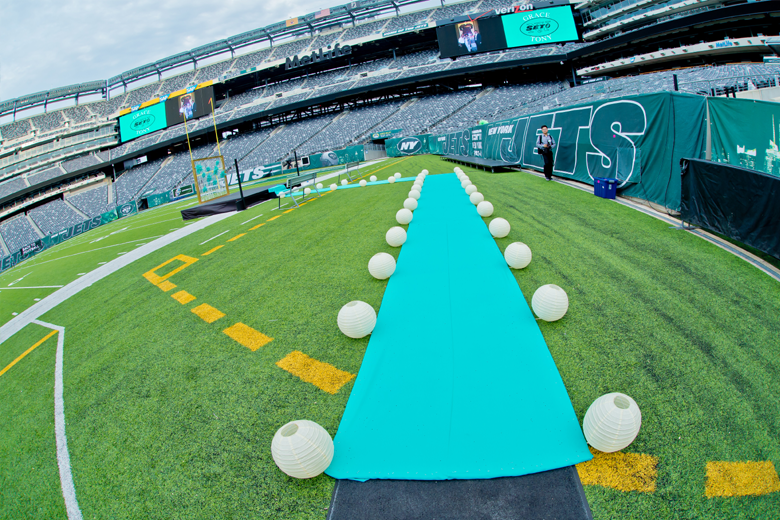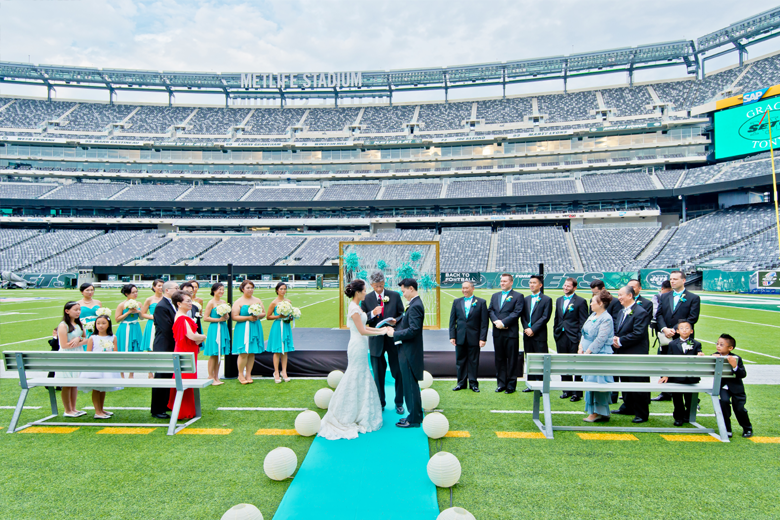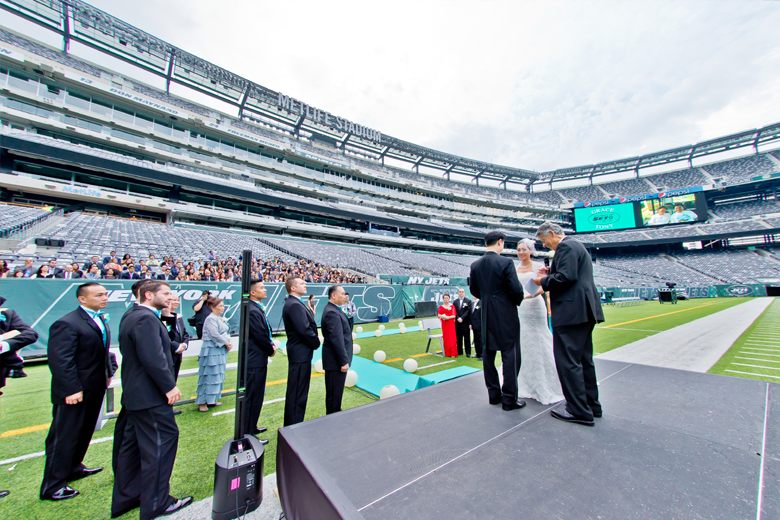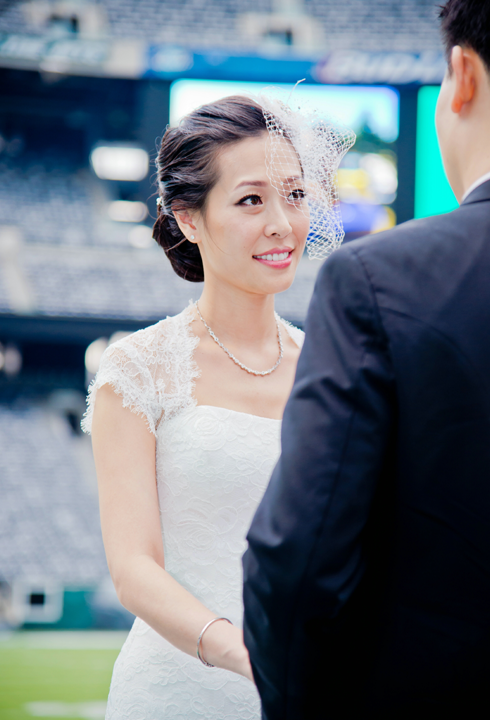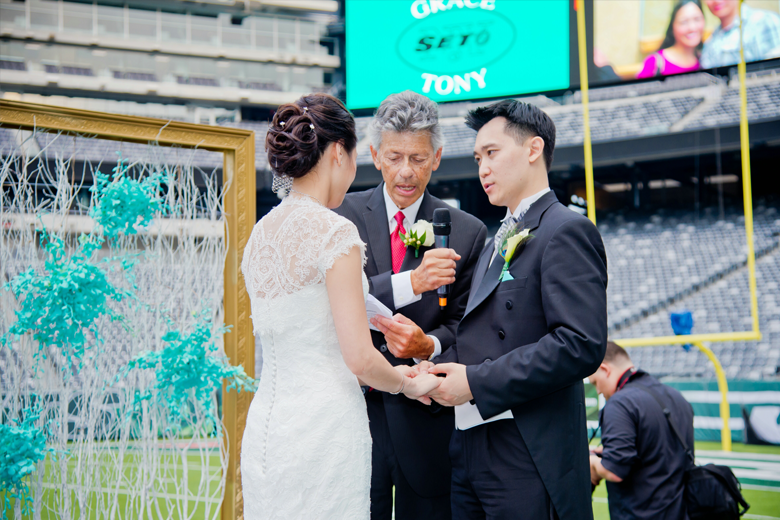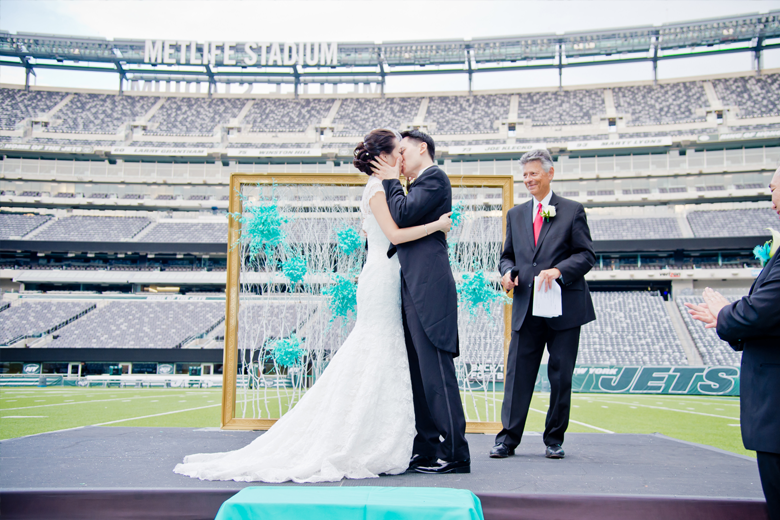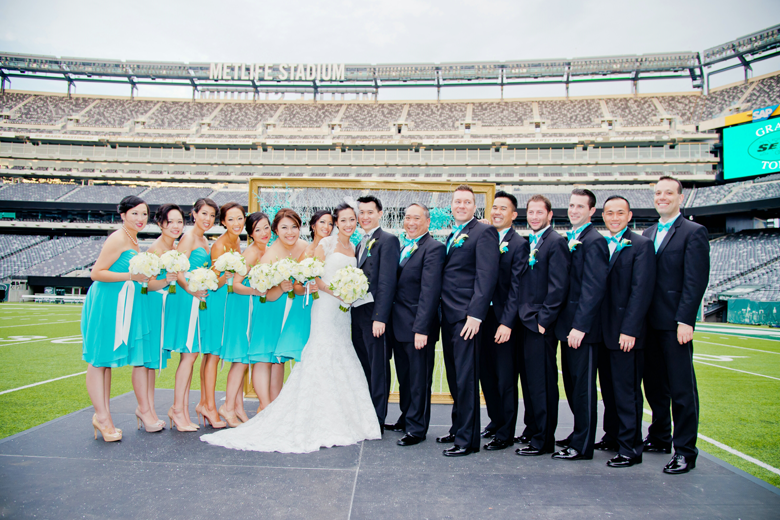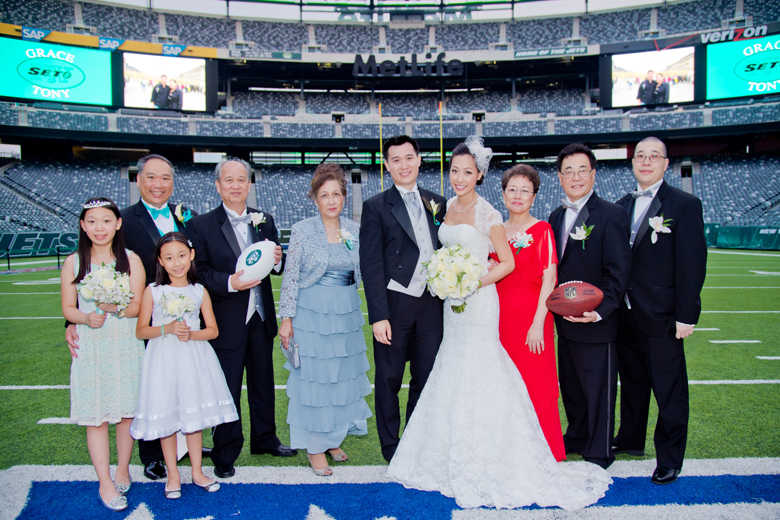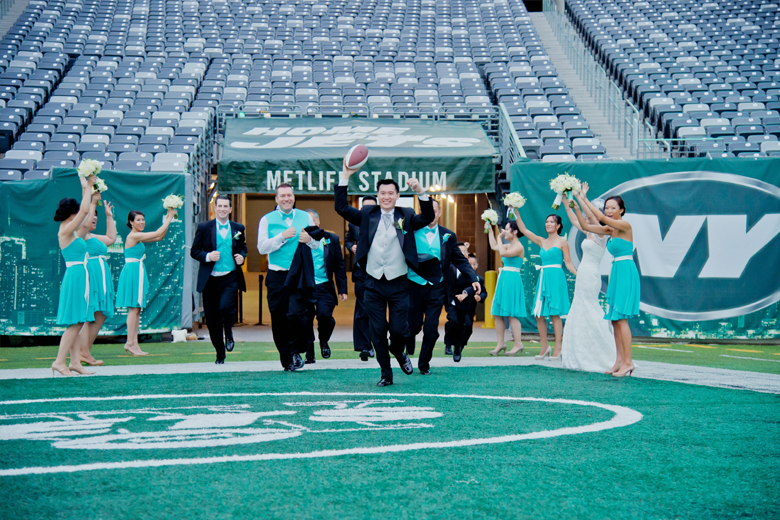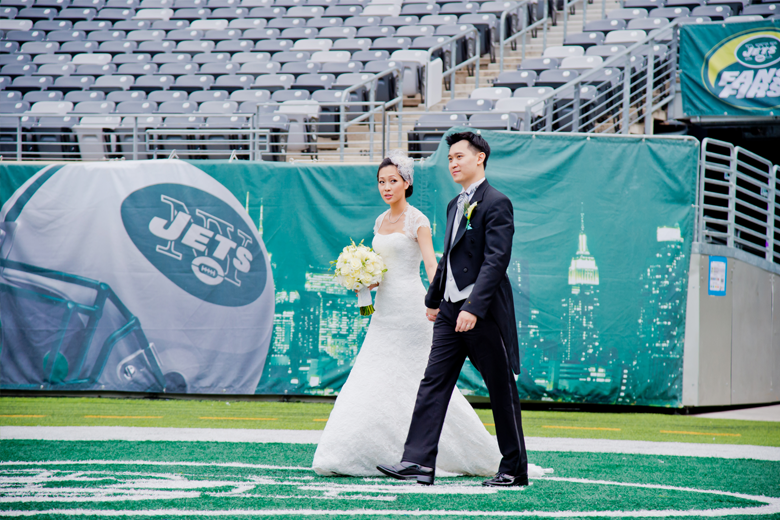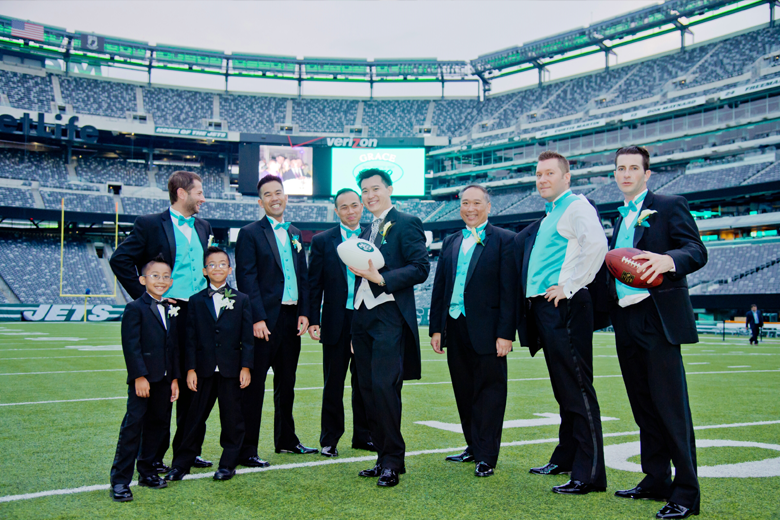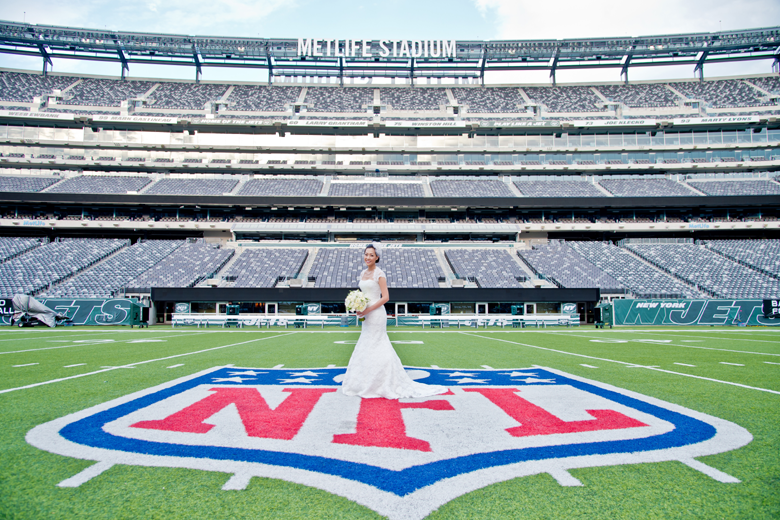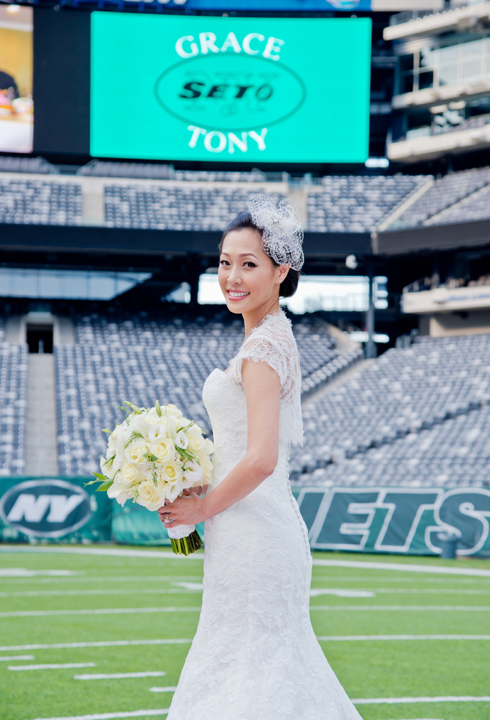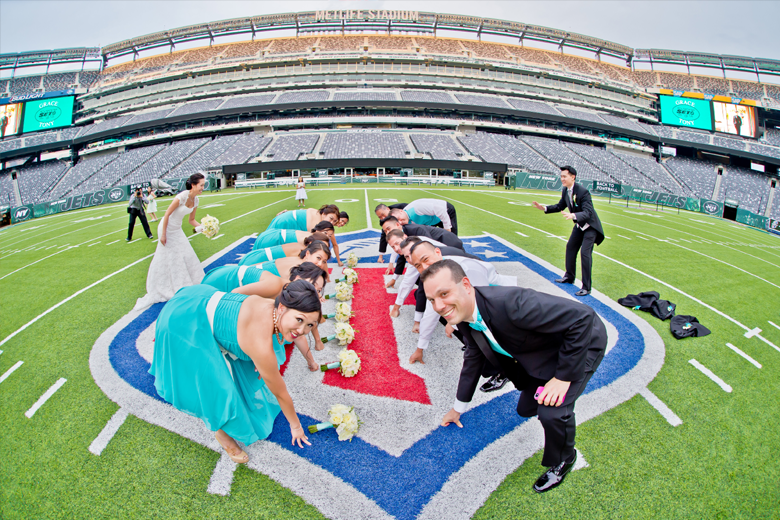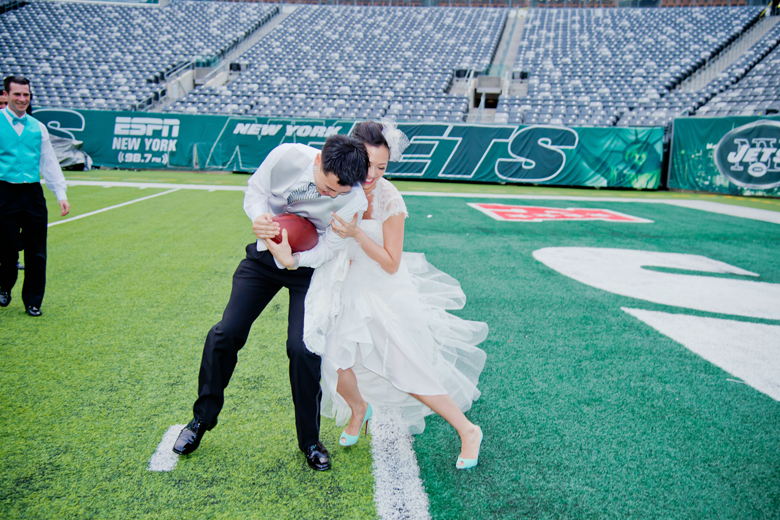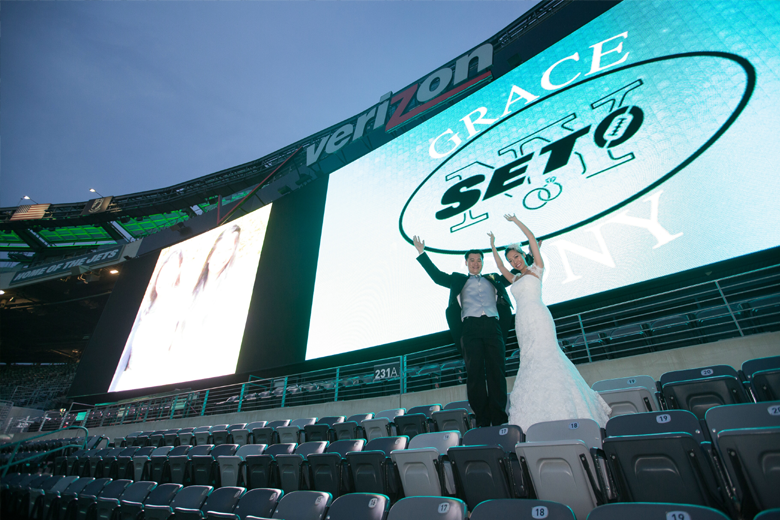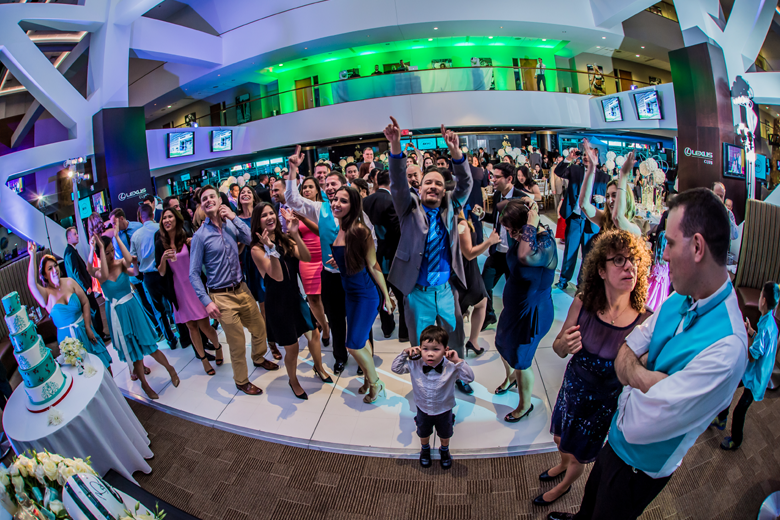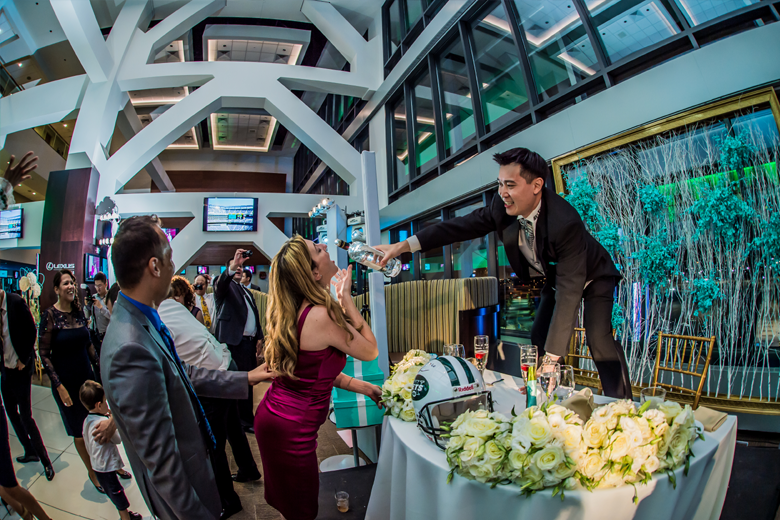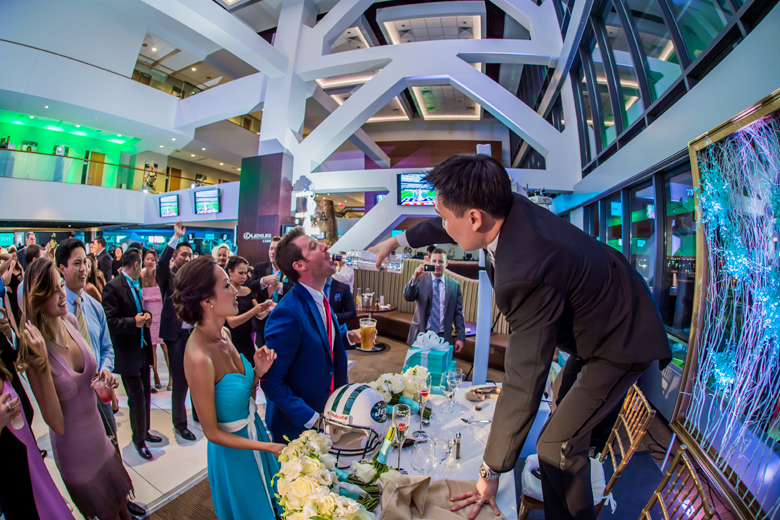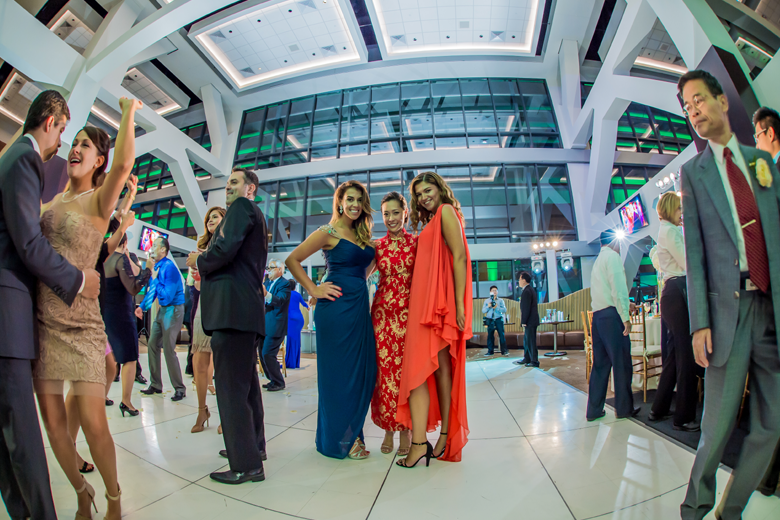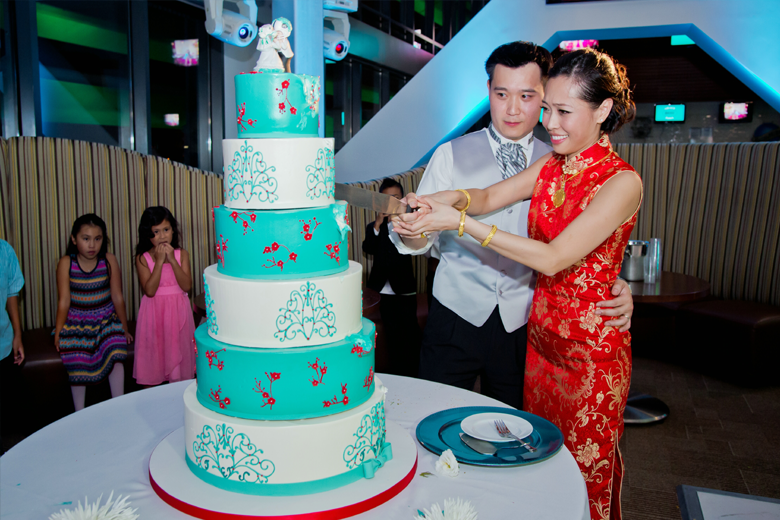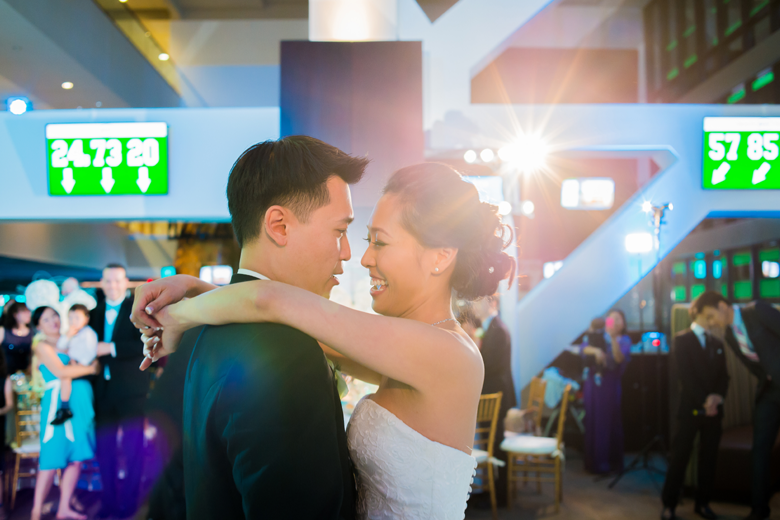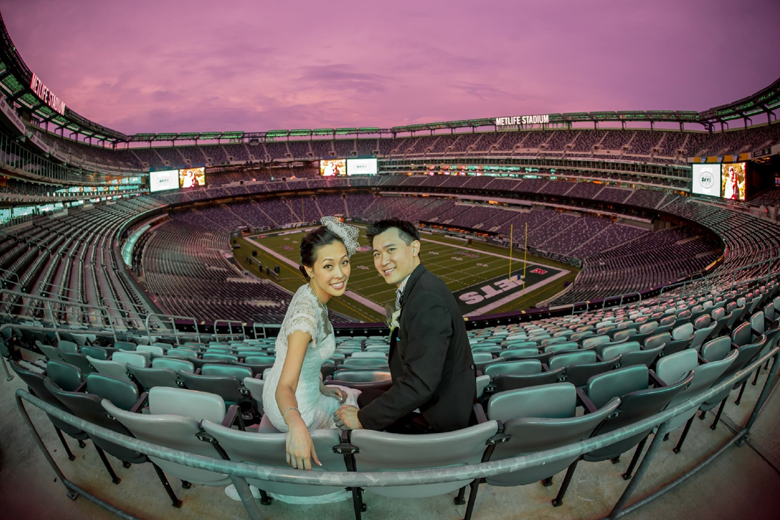 "… at the end of the day this was not a New York Jets extravaganza it was a wedding" – Grace
Vendors:
Photographer: Princess Wedding – Flushing, New York
Florist: Corner Cottage Flowers – Greenwich, NY
Wedding Cake: Sweet Sisters Cakes
DJ and MC Lighting, decor: ESP Production Inc – Alberton, NY