Tim and Marisa met at work and discovered they shared a mutual passion for ice hockey – Tim, from Philadelphia originally, roots for the Flyers, and Marisa, from DC, has always been loyal to her hometown Capitals. Tim also plays in a beer league and Marisa's brother has played hockey since he was 6 years old (he also played club hockey at Syracuse University). Marisa and Tim's first few dates involved watching each other's teams play on TV and in-person at a Caps/Flyers game in DC. It was a groaner of a game for Marisa (the Flyers trounced the Caps, 5-0) but somehow, she left Verizon Center that night feeling sure Tim was the only one for her. That's saying something!
Two years later, Marisa and Tim got engaged, and it was a no-brainer what the wedding theme needed to be – Caps/Flyers, of course! They set out to create a playfully competitive, yet elegant wedding aesthetic – that reflected their love for their rival teams, but didn't make you feel like you were stepping into a locker room or your local sports bar. Their families and friends were anxious to get planning and start figuring out the details. Their wedding DJ and family friend, Jarrod, was more than willing to help. Marisa's family has known Jarrod for years – in addition to DJing, Jarrod does sports announcing, and he announced at her brother's high school hockey games as well. Jarrod designed a custom logo for Marisa and Tim, playing off of the NHL logo, using the initials "M&T."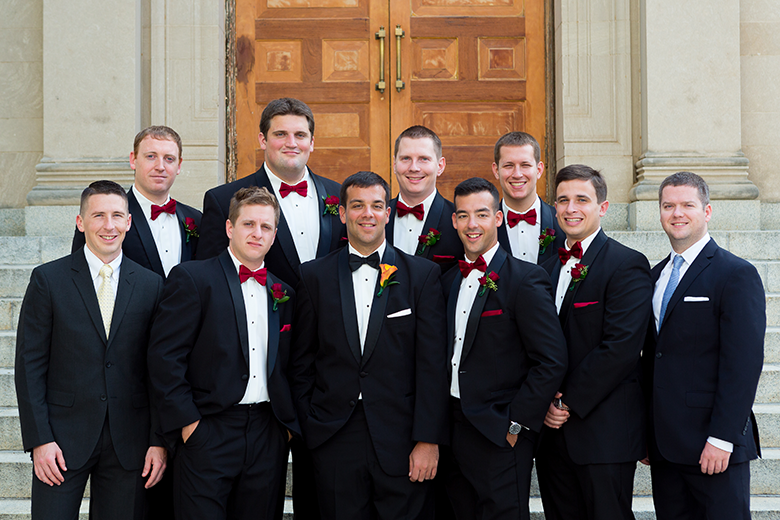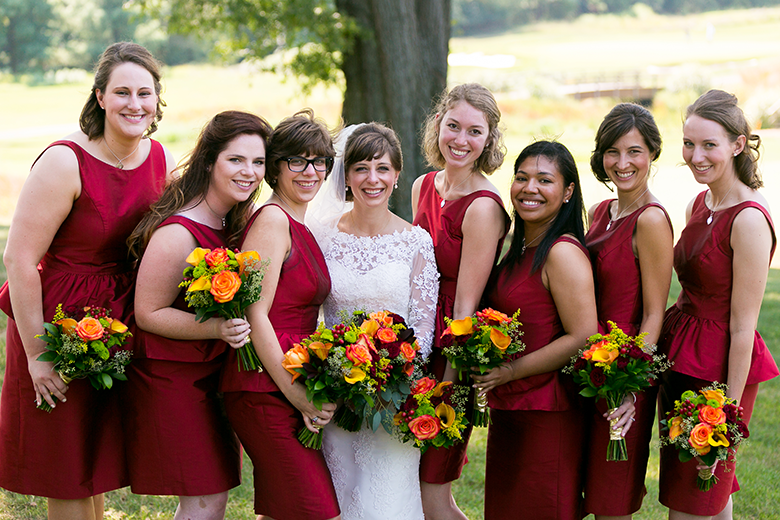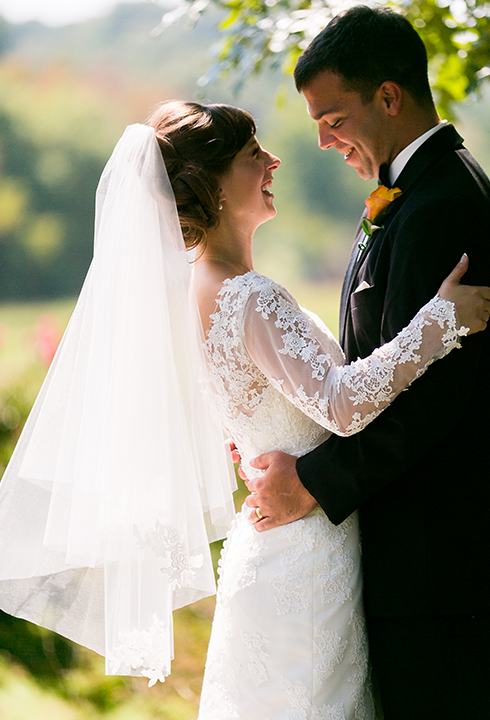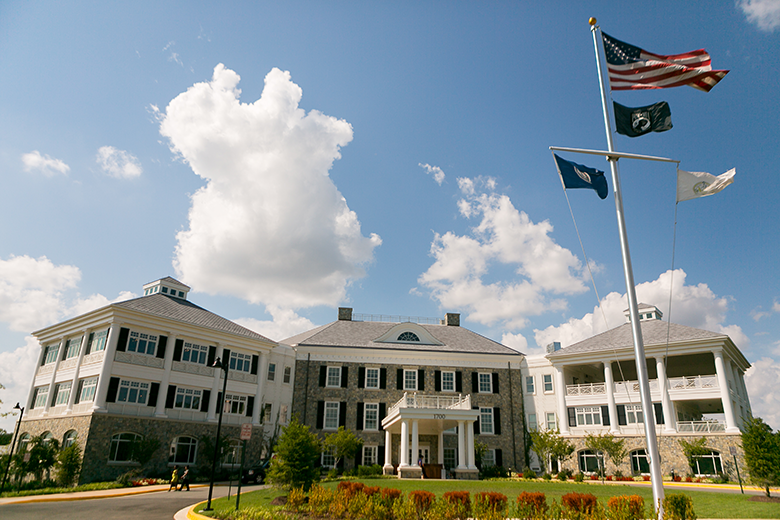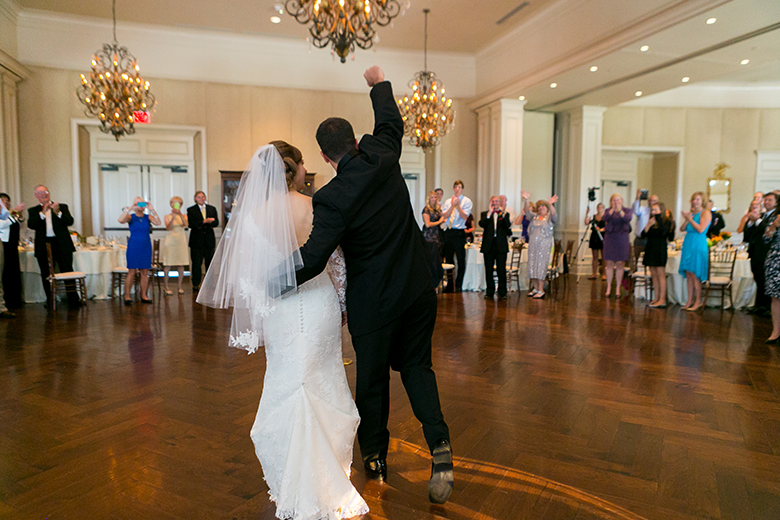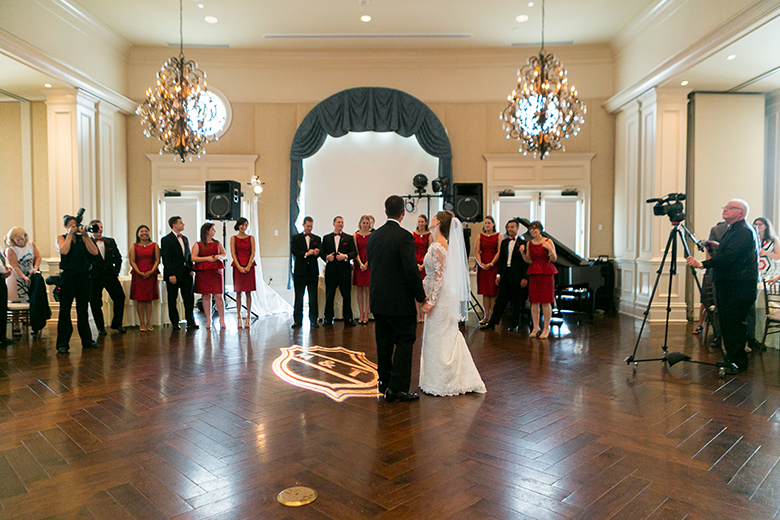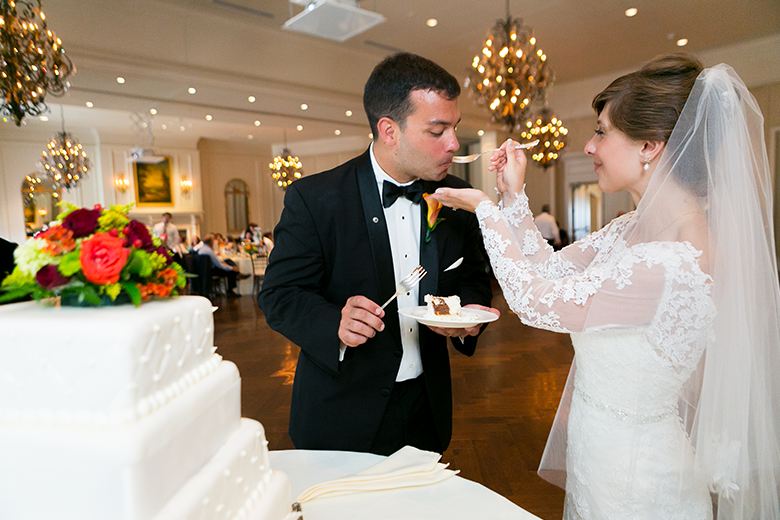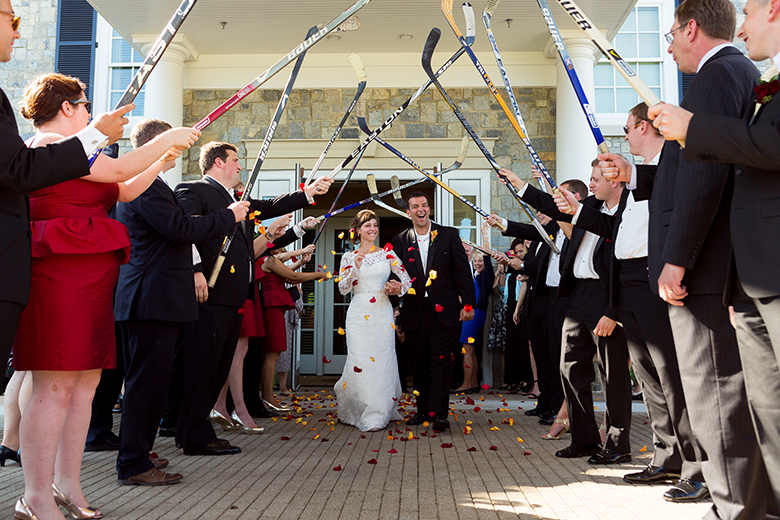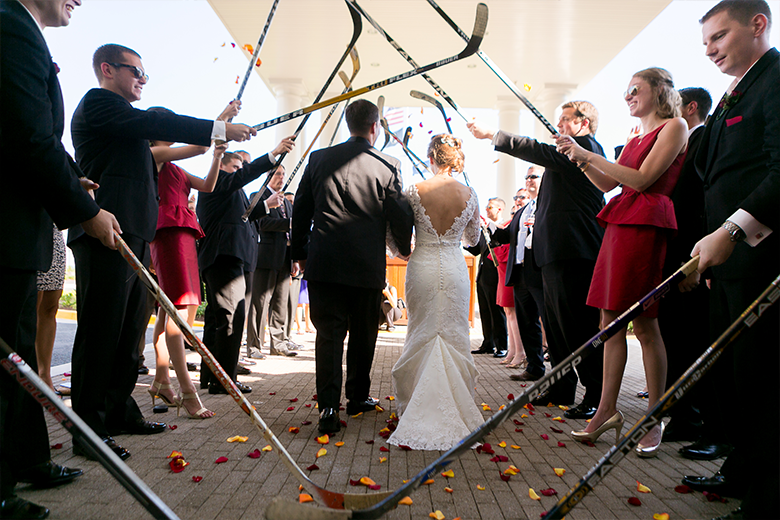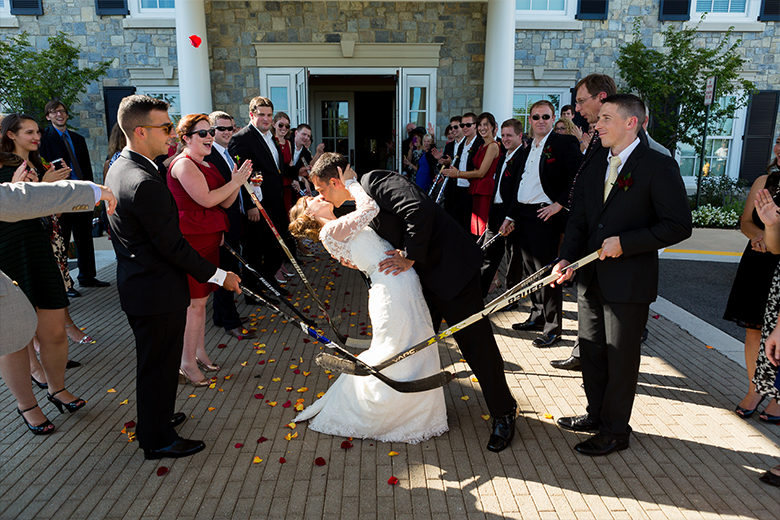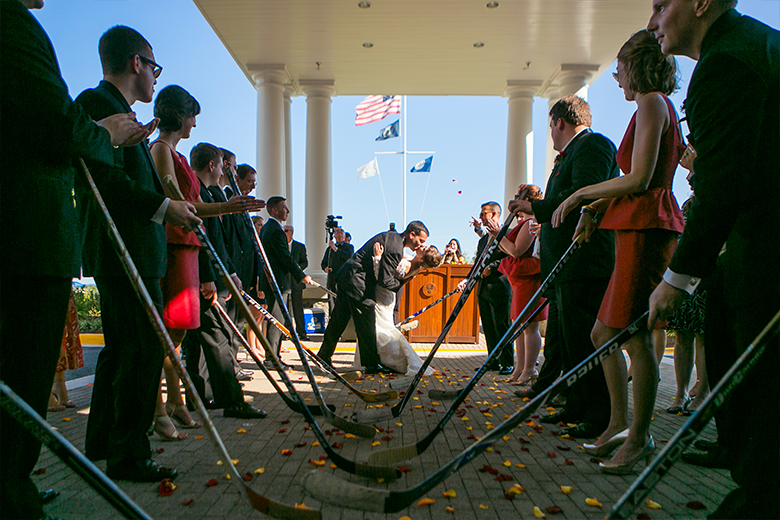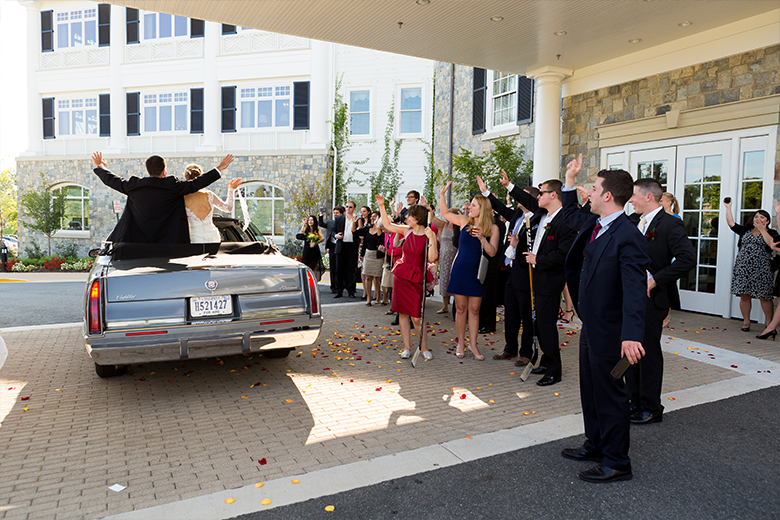 Other fun details included: a hockey puck card box, personalized hockey puck placeholders (which doubled as wedding favors), famous Capitals/Flyers player table markers, custom bobbleheads of the couple in their respective jerseys (designed by the groomsmen), and a hockey stick tunnel grand exit. Marisa's sister Natalie designed the "Save-the-Date"s sent to guests – a hockey "ticket" – which was blown up poster-sized and displayed in the foyer of the venue.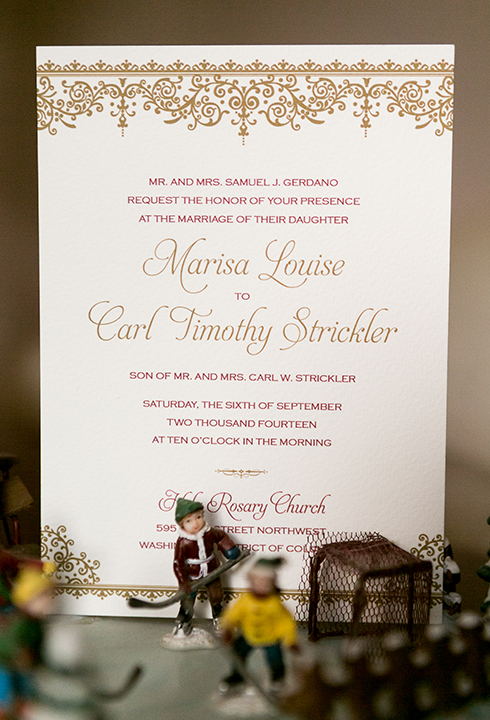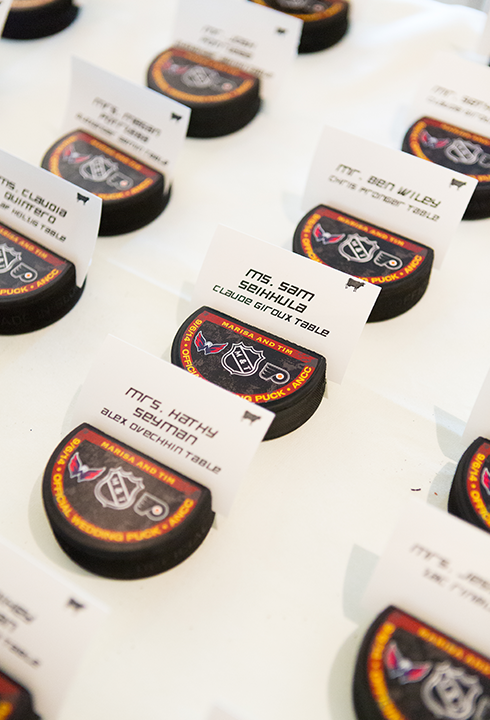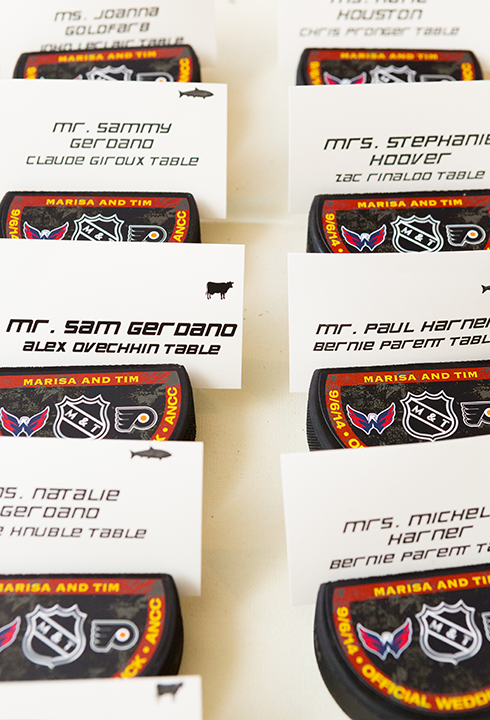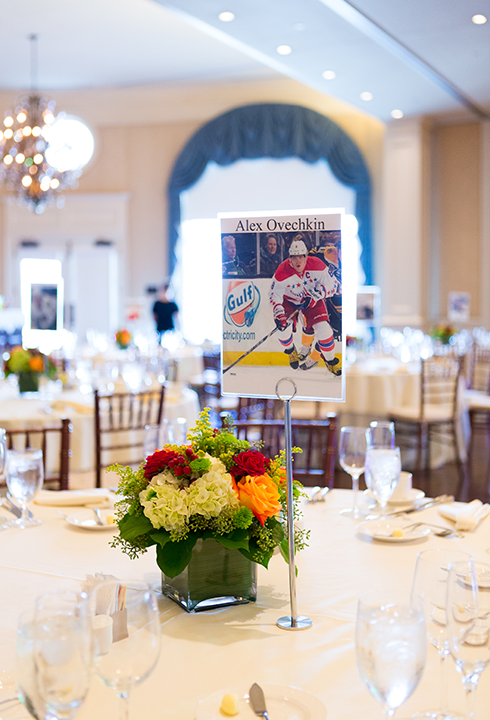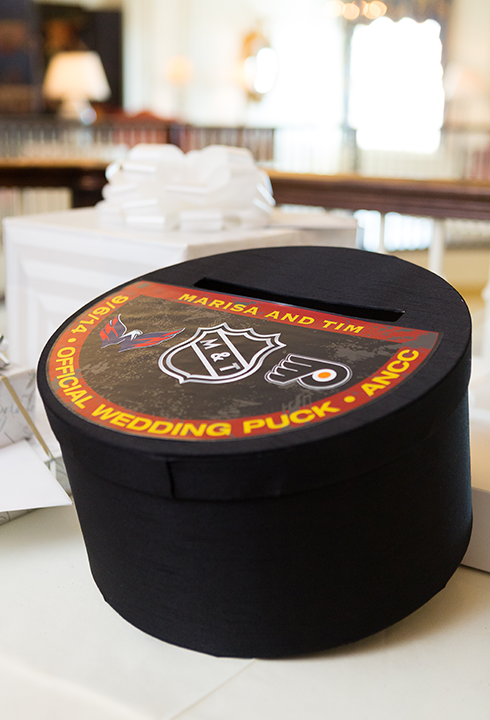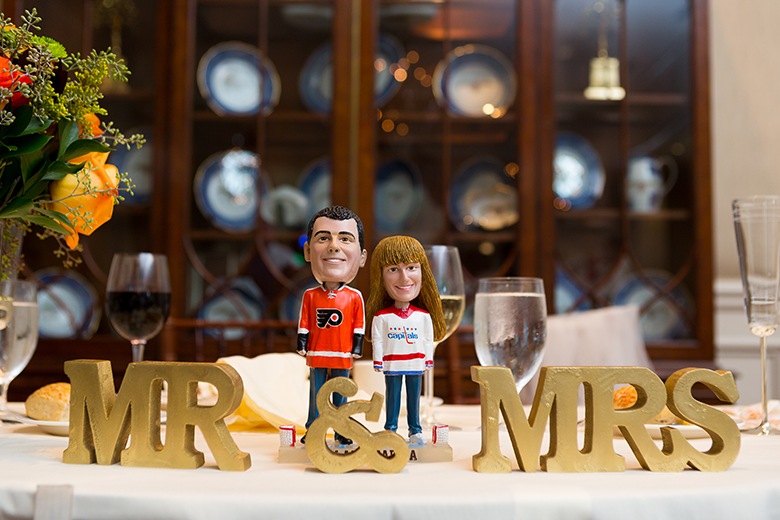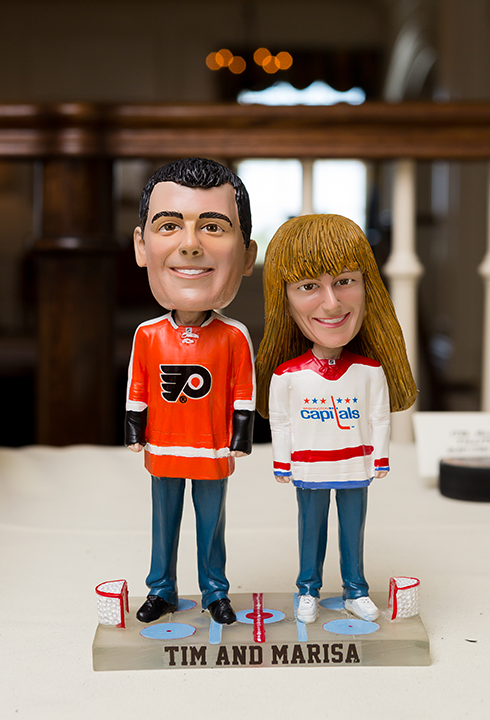 Marisa and Tim celebrated their second anniversary this year. They are looking forward to the start of the new NHL season, together with their 1-year-old son, Gordie (named for Hall of Famer, Gordie Howe, of course).
Other Vendors: